Grant Gustin may or may not be promoted on season four of Glee.
But he'll definitely be doing some damage on the show's upcoming Michael Jackson tribute episode.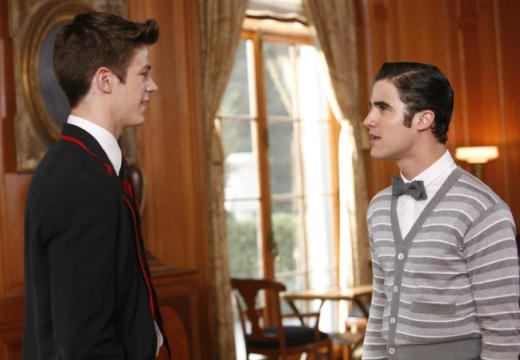 The actor spoke to E! News last night and said his villainous Warbler will "inflict pain on somebody" early on in the installment, leading to Santanta confronting Sebastian at Dalton Academy - and the two breaking into a rendition of "Smooth Criminal."
Gustin will actually be involved in two numbers beyond this, as well: "Bad" and an unnamed Jackson 5 single.
What other iconic MJ tracks will be covered on the episode? According to TV Guide's William Keck, who was on set for filming:
Wanna Be Startin' Somethin' - Blaine
Rock with You - Sebastian and the Warblers
Bad - Artie, Santana, Blaine, Sebastian
Scream - Artie and Mike
Never Can Say Goodbye - Quinn
Human Nature/ Nature Boy (mash-up of MJ and Nat King Cole) - Mercedes & Sam
Ben - Finn, Rachel and Kurt
I Just Can't Stop Loving You - Finn and Rachel
Black or White - Artie, Rachel, Kurt, Mercedes and Santana