Grey Damon entered The Secret Circle last Thursday, coming on board The CW drama as Lee LaBeque.
We already know he'll return this Thursday, based on the official preview, but what about down the line?
"I'm actually in Vancouver shooting an episode right now," the actor told me over the phone. "I'm really excited. I think it will be shown a few more episodes into the season."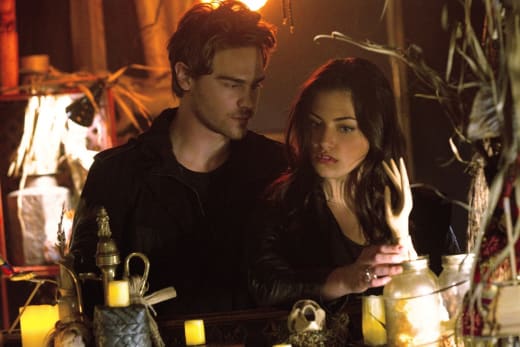 What's to come for Faye and Lee?
"Things are going to get heated up," Damon teased. "There's definitely tension there.... What's interesting about Lee as a character is he's sort of like a genie, in sense. He'll sort of grant you your wishes but not necessarily in the way you want, because you didn't ask for them in the right way. He does want to help Faye, but I think a lot of that is him being in it for himself. He will try to get her what she wants, but it might not necessarily be in the way she wants it. Lee is sort of this walking cautionary tale. It seems like he stirs up trouble a lot."
And there's no better character than Faye for him to do that with, considering how she loves to stir the pot herself. Damon refers to her as the "ideal choice" to team up with Lee.
As for any romance between the teens? "I think there is an attraction there, but they both have other things going on so if there is a romance, it's only going to complicate things."
Shoot.
Has he paid any attention to the fan reception of his appearance on The Secret Circle?
"No, I try not to read that sort of stuff. It makes it more difficult to work and I don't want any ideas in my head but to stay true to what I did and hope the fans react to it."
What about the possible movie conclusion to the saga of The Nine Lives of Chloe King, which is now rumored to have a big screen future?
"I wish I knew what they mean to do with that. I'm not sure what they plan on doing with me. I would love to get back into that character of Brian because it was such a fun job to do. It was a fabulous cast and crew. I'm going to take it as it comes, but I hope they want me back, because I really loved that job."
My professional opinion? Don't have the Chloe King movie without the original cast and keep Grey Damon on The Secret Circle. He and Faye could go places, writers!
Carissa Pavlica is the managing editor and a staff writer for TV Fanatic. She's a member of the Broadcast Television Journalists Association (BTJA), enjoys mentoring writers, wine, and passionately discussing the nuances of television. Follow her on Twitter and email her here at TV Fanatic.