Welcome back to TV Fanatic's Grey's Anatomy Round Table!
Our official Grey's Anatomy review broke down last week's episode, "This Magic Moment," in detail. Now, TV Fanatic staff writers Courtney Morrison, Sean McKenna and Christina Tran have gathered for a Round Table Q&A to further debate, discuss and dissect the goings on at Seattle Grace/Mercy West.
Read their answers below and weigh in with yours!
----------------------------------------
1. What was your favorite scene/quote from the episode?

Courtney: I quickly want to answer the Mer/Der scenes with Zola and trying to get her to walk. It was sweet and they seemed so excited and joyful to have this baby. But, I also really enjoyed Cristina's scenes with Teddy. Cristina and Teddy are so similar that Yang understood why she had to do this. Once again, Sandra Oh rocked it.
Sean: As much as I'm not the biggest fan of the Zola storyline, it was rather amusing when she took her first steps. Not only was it a great moment for Meredith and Derek, but it was funny that they weren't able to capture it on film. Life just happens, even if the cameras aren't on.
Christina: I absolutely loved the very last scene with Zola taking her very first steps. How adorable was she and her new parents?! Their little McFamily is perfect.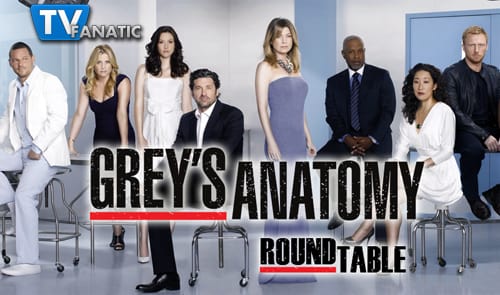 2. What did you think of Teddy having Cristina repeat Henry's surgery to her? Is this helping or hurting her and will she be able to trust Cristina to work along side her again?

Courtney: As I mentioned above, I really enjoyed it. It started to get a bit old having her do it on repeat but by the end, I understood it. The fact that Cristina was able to stand there and tell her friend, the new widow, how her husband died on her table is pretty impressive. I think these two will continue to work well together. If anything, this made Teddy trust Cristina more.
Sean: I thought it was a bit mean and obnoxious. I get that Teddy was distraught over her husband dying, that made perfect sense. I guess I just wish that there was another way for Teddy to move forward than to make her repeat the procedure over and over for weeks. If anything it showed what a good friend Christina was in putting up with it and refusing to say anything or leave.
Christina: It was cold and annoying to me at first, but I understood Teddy's reasoning. What Cristina did for Teddy only helped in her comprehending what exactly happened and will hopefully aid her in moving forward. I also think it will only bring them closer as friends and colleagues. Teddy will be able to trust Cristina to work alongside her again.
3. The conjoined twins were one of the biggest cases the docs at Seattle Grace have attempted. Did this surgery fall into your favorites?

Courtney: It didn't pack as much of an emotional punch as some cases, but I enjoyed the idea and having everyone working together. I would put it up there in the list, but not before the train accident and of course the bomb episode.
Sean: Not at all. Even when the few problems arose, it never felt life threatening and the characters never seemed to be pushed to a particular brink. It all just worked out and another case was completetd. Sorry, but that one won't be one of my top favs.
Christina: My favorite episodes are the ones that have me nearly running out of tissues. Although it was an incredible case, I felt like it wasn't emotionally-packed by any means. So, my answer is: no.
4. Richard stole Alex's procedures twice on the twins case in an effort to teach him about once in a life time surgeries. Do you think this was the right way to teach him?

Courtney: I was getting pissed at the old Chief, I really thought he was stealing them for a while! This was a tough way to teach his lesson but it definitely got through to Alex. You never give up working on a once in a life time procedure. Not for anyone. Here is hoping Alex has some cool surgeries come through soon.
Sean: The lesson certainly got through to Alex after that second go around, but I also thought the Chief sent a message that work and special surgeries come before your friends. He may become the best surgeon and have a list of some of the finest procedures, but if he shuts off from everyone else for the sake of it, I don't think that will be a good thing. 
Christina: I was just as gullible as Alex and fell for Richard's trickery… both times. I thought it was an awful attempt to teach him and am kind of disappointed in the former chief.
5. Cristina and Owen barely shared any time together and clearly things are tense between the two. What is to come for this couple after the fallout from losing Teddy's husband?

Courtney: The road looks rough ahead for these two. Owen is still angry about the baby situation, Cristina is still angry that Owen had her operate without letting her know who the patient was and then making her stand by Teddy's side after Henry had died. The previews don't look too favorable for them either. I'm feeling a separation for a bit. These two are definitely end game, but the tension is so bad right now, if they don't take a break they will end up apart for good.
Sean: There's tension between the two and I'm sure we'll get to see how that's affected them. I feel like they will come back together by season end, but it won't be an easy journey for them.
Christina: Oh, Owenstina… the constant tension and repercussions of losing Henry are going to break them apart. I am fairly certain they will eventually make up, but the road to getting there is going to seemingly a long and difficult one.
What do you think? Share your responses in the comments below!