House of Lies Exclusive: Dawn Olivieri on the Role of a Lifetime
Matt Richenthal at .
On House of Lies - which premieres this Sunday at 10 p.m. on Showtime - Dawn Olivieri plays Monica Talbot, a woman the actress describes as "narcissistic, manipulative" and willing to do anything to get what she wants.
In other words, Olivieri told me over the phone, it's her "dream character."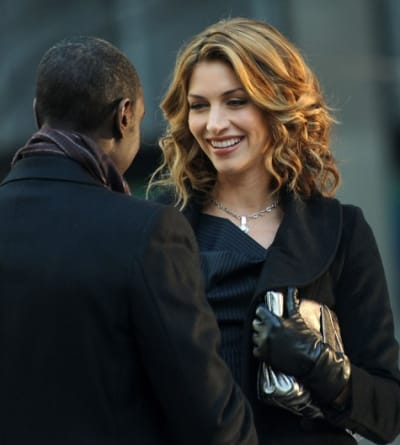 Viewers will get an immediate impression of Monica in the first few seconds of the pilot episode, as it opens with her lying naked in bed alongside her ex-husband and top business rival, Don Cheadle's Marty Kaan. Look for these two to often be in compromising positions together.
"You don't wanna be taking your clothes off for any old show," Olivieri laughed. "But House of Lies covets that quick wit, that truth, those in-your-face situations... if you're gonna be naked, it might as well be for a show like this."
And it helps to to share these scenes with a veteran such as Cheadle.
Olivieri couldn't say enough positive things about her co-star, referring to him at various times as "accommodating, compassionate, open and a genius in subtlety and nuance." For someone who has only been acting for six years, Olivieri said the experience has been "terrifying" and, well, "orgasmic."
"He's the lifeline she can use to manipulate Marty," Olivieri says. "She'll use any kind of business strategy to close a deal."
"I'll just say this," Olivieri teases. "She's a business woman at all times. It someone or something is encroaching on her territory, she's gonna do something about that."
Matt Richenthal is the Editor in Chief of TV Fanatic. Follow him on Twitter and on Google+.