House of Lies Review: What Would Clooney Do?

Chris O'Hara at .
This week on House of Lies, Marty and his team had a plus-one, as Roscoe accompanied them on their latest case. I'm not sure I can agree that San Francisco has the best food trucks, but it definitely was a fitting stage for the treat of an episode "Mini-Mogul" dished up. 
First things first: don't be fooled by the rocks that Jeannie's got. As soon as her fiance was out of sight she hid her ring away and once again became Jeannie from the block, asking Clyde to email her the video of his latest tryst with a TSA employee. Thanks to Kurt's (Nick Stahl) cerebral intuition, which he no doubt honed while playing the coffee house circuit, we learned that in addition to being a connoisseur of cannabis, Jeannie also has some major daddy issues.
This will certainly stoke the already smoldering flame between her and Marty, who we know has parental issues of his own.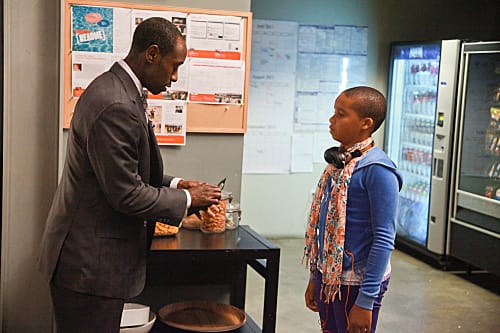 We continued to see the far-reaching repercussions Marty's mother's suicide had on him this week when he left a series of alcohol infused voicemails on Monica's phone. While the disregard for her maternal obligations was reprehensible, I think a good deal of the accusatory language in that scene was being directed at his dead mother. Marty made a valiant effort at the end of the episode with his heartfelt apology to Roscoe, but it was thanks to an unlikely confidant that his son touted their trip as the "best week ever."
Doug showed Roscoe that some pitfalls of childhood bridge even the widest of generation gaps. Yesterday's atomic wedgie has been replaced by cyber bullying, but it is all the same brand of cowardice that - as Doug wisely said - stems from an underlying resentfulness. Doug's story was indeed "awesome" and amazingly reminiscent of Egg Stork's story about a little fat boy in One Crazy Summer. While his "Clooney' would have failed to make even Mrs. Garrett blush, he deserved some serious points for the character he showed this week.
Clyde also showed his softer side when he gave Roscoe props for his performance as Rizzo in his school musical. Their genuine interest in Marty's son did not come at the expense of their ongoing quest to out copulate each other, though, as we were treated to another series of hilarious exchanges between the two dysfunctional Don Juan's, highlighted by their Clooney debate. 
While we are still learning exactly what makes these characters tick, I think we've been privy to enough insight thus far that warrants continued interest in this show. The stage has been set for some serious drama and I, for one, can't wait to watch it all unfold as the season progresses. As for the rest of you viewers, I am very much looking forward to reading if, like me, you think House of Lies is the truth.