Jane By Design Review: Series Premiere

Carla Day at .
At first glance, Jane By Design comes across as a conglomeration of Don't tell Mom the Babysitter's Dead, The Devil Wears Prada and almost any of John Hughes' movies brought to the small screen. The title character, played by Erica Dasher, even has a similar look to Prada's Anne Hathaway.
While the premise of the show definitely is reflective of those two movies, it is the 1980s Hughes feeling and the charm that Dasher brings to Jane that has drawn me to the show.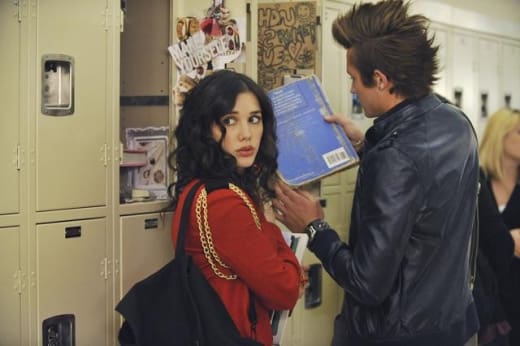 In all honesty, I found the pilot to be boring at times, but I forgive that because in the big picture the episode worked to introduce the main players, their personalities and the general framework of the show. Because all the players are known, the series can develop their relationships and the multiple conflicts throughout the rest of the season.
The Jane character is in many ways unoriginal - the quirky, unpopular girl with the guy best friend. But when she got out of her school environment, she broke away from that stereotype. She was all tongue-tied when she bumped into her school crush, Nick, yet had no problem being witty and confrontational with Jeremy, the hot, British-accented fashion designer.

While balancing her school and work lives is going to be a challenge, I'm most looking forward to seeing how Jane's two personalities merge into one another.
First up, the changing of clothes between locations needs to stop or at least be done off camera. That would get old very quickly. Plus, her work clothing would definitely get her noticed at school. A gorgeous car and stylish, tight-fitting dress instantly got Nick to take notice of Jane.

The potential love quadrangle between Jane, Nick, Jeremy and Billy should be fun to watch play out. I already hope that Billy wakes up and dumps the annoying Lulu for Jane, but I'm sure that won't happen for awhile.

In addition to the romantic minefield Jane looks to be facing, she has a perhaps bigger war brewing at her job. Her first day there and the office politics had taken hold already. How will high school Jane handle the difficult corporate world with driven executives such as Gray and India? If her start was an indication, she will be faced with plenty of challenges, but she's prepared to handle them.

Jane is a risk taker. She played in her boss' closet, took her car and made a presentation all to help and protect Gray. Well, except perhaps the impromptu fashion show in Gray's closet! It seemed a bit out of character for Jane to do that, but it was fun to watch. Didn't you want to get up and dance around with her too? Oh, that was just me?

Overall, despite the over-the-top high school cliches, I enjoyed the premiere enough that I'm looking forward to the series. I want to know what comes next for Jane, don't you?
Carla Day is a staff writer for TV Fanatic. Follow her on Twitter and on Google+.