What Justified has become so wonderful at recently is not only mixing serialization with episodic stories so well, but also creating episodic plots that - in and of themselves - are integral to the seasonal arc.
That was never more evident than in "Harlan Roulette."
Wade Messer, who we were reminded hung Raylan up a tree last season*, worked for the pawn shop owning Glen Fogle... who worked for our beloved Winn Duffy... who in one way or another is involved with the all kinds of crazy Mr. Quarles, who we met in the season premiere.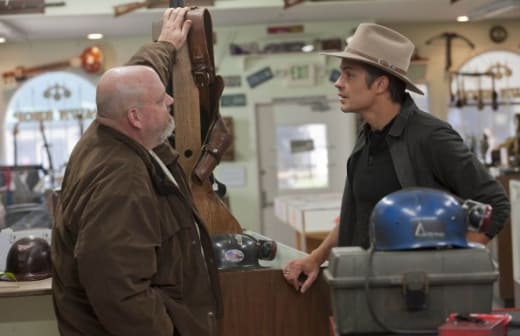 (*Both Wade asking Fogle if hanging Raylan up a tree made them friends, and then Raylan shooting down their friendship by reminding the pill popper that he hung him up a tree and left him for dead, were hilarious ways of reminding the audience of their relationship.)
The weird and wild web of baddies continues to be connected, which made the story of JT, Wade and Fogle that much more interesting. Because we knew that there was a good possibility it would lead to Raylan running into Duffy again and/or Quarles for the first time, there were extra stakes tied to the story here.
Even if there weren't, though, this week would have still been a very entertaining hour, mostly due to the fantastic work of Pruitt Taylor Vince as Fogle. The long-time actor was recently seen on The Walking Dead, where he was one of the only likable characters on screen as Otis.
Here his Fogle wasn't all that likable, but he sure was intriguing to watch. I was on the edge of my seat for the entirety of that Harlan Roulette sequence. I mean, making the dude pull twice? And then laughing about it in his face? It was no wonder JT fired off the final blank rounds right back at Fogle.
Of course, he hadn't loaded the gun for the original game, but when he did throw a round in, it was just as tense watching him pull the trigger a few times before finally putting JT to bed. What do you call that game?  
The man was severely twisted, continuing the long line of thrilling Justified villains to grace the screen.
When he and his lackey were both given the opportunity to rat people out to get off scot-free, Fogle changed. He turned from the Mags Bennett - I do what I want when I want and I don't care about the outcome - type to the Dickie Bennett - I will pretend to be hard but at the end of the day I want to free and alive - type within a matter of minutes.
Like much of the time on Justified, coming from the Elmore Leonard model of baddies, the villains turned on each other, and in this case it was awesome watching Fogle and his man pull on each other when moments earlier they were pointing their guns at Raylan.
Fogle was attempting to give up Winn Duffy, which would have done wonders for Raylan. Instead, he died, so Raylan had to make a surprise visit to Winn, which led to the meeting between Raylan and Quarles. That meeting, in the moment, felt truly epic. It gave off this vibe that these two were going to come to blows at the very climax of this season.
I'm still not sure which was more studly, the snapping of the cell phone pic, or tossing the bullet at Winn and telling him that the "next one's coming faster."
On the other side of town, Boyd Crowder was making some long-term moves with the plan of creating an evil empire that no longer had to be the middle man, which included one absolutely exhilarating scene.
I love watching Boyd give long-winded intellectual speeches to morons, so his oratory to the new bar owner and its patrons was just fantastic. It wasn't quite as good, though, as the bing-bang-boom that followed it. Having a couple dudes sitting in the bar, waiting for the owner's men to pull on Arlo and Devil first, was nothing short of genius.
Getting Johnny's bar back is nice, but what else does he have in the works? What is he going to do in order to compete with the Frankforts and Miamis of the world? The way that Limehouse showed him up on the bridge seemed to light a fire under him, so I wouldn't be surprised to see Boyd Crowder take over the world at this point.
Between Boyd, Limehouse, Quarles and now the prospect of Dickie possibly getting out of the big house, there is a lot going on in Kentucky right now. Who will end up on top of it all? Or will Raylan take them all down, like the Master Marshal that he seems to be?
I'm just as excited as ever to see how this third season of Justified will begin to unfold as we creep towards the middle of it. What did you all think of "Harlan Roulette?" What was your favorite moment? And how good did Limehouse's barbecue look?!?
Dan Forcella is a TV Fanatic Staff Writer. Follow him on Twitter.