There was a time, a few years ago, when it seemed like every week brought some new story about Katherine Heigl and her unhappiness with Grey's Anatomy. Now that she's long gone, the reverse seems to be true.
Heigl admitted again on Monday that she regrets having left the ABC drama.
The actress, who said last week that she would return to Grey's Anatomy if asked, responded to Barbara Walters' question of whether she misses the show and is sorry she left as such: "Oh yeah, sometimes."
"You miss it - I miss it," Katherine continued as she cuddled daughter Naleigh, who earlier ran up on stage and decided to join her mom's interview. "I miss my friends. It was a great work environment."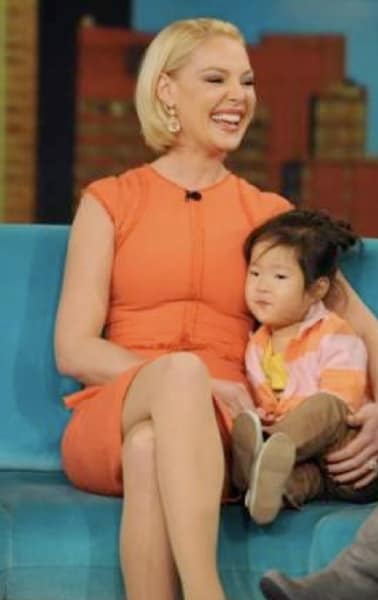 "We all got along really well, and it becomes a family. I spent six years with these people every day. We grew together up in a way," said the 33-year-old, who's promoting her new film One For the Money.
Katherine said she has not been asked back yet to play Dr. Izzie Stevens, a role she debuted with the show in the spring of 2005 and left on difficult terms in 2010, but she would be willing to rejoin the fold.
"I think that for me, it's sort of… I want them to know that I'm down with it if they want me to, but I understand if it doesn't necessarily work into [the story]," she said. "They've got a lot of storylines going on there."
Heigl's headline-raising spree began in 2008, when she withdrew her name from Emmy contention, telling the Los Angeles Times she didn't feel she was given the material this season to warrant an Emmy nomination.
She had won the Outstanding Supporting Actress Emmy in 2007.
Katherine also made her contract dispute with the show public, complained about working long days, and even told USA Today that she had started to dislike her character before her departure.
It looks like time has changed her perspective, however. Think she'll ever be asked back by the show, even for a cameo? Is that something you, as a longtime fan, would like to see occur?
Tell us: Do you want Katherine Heigl back on Grey's Anatomy?
Steve Marsi is the Managing Editor of TV Fanatic. Follow him on Google+ or email him here.