After last week's premiere, I mentioned that I was intrigued by the unknown mythology of this Lost Girl world. This week in "Where There's a Will, There's a Fae," we were introduced to two new Fae creatures, the Fae community bar, and Trick the Fae guru.
Now that Bo has rejected both the Light and the Dark Fae, she has put herself in a risky position. She needs to stay out of trouble and, more importantly, out of the humans' notice. Given her issues now, it is amazing (read: impossible) that she stayed hidden for so long. But it's a television show, so I'll go along with the set-up. I just hope that the show remains believable within the constraints of its world.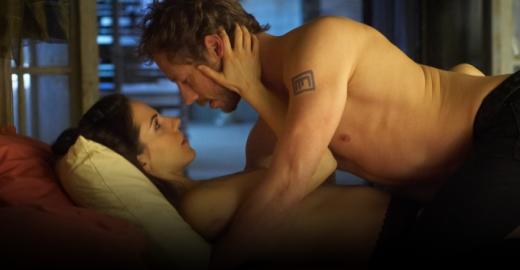 When Bo walked into the Fae bar, she was definitely an anomaly. The looks that she got from the patrons reminded me of those that Harry Potter received when he arrived at Diagon Alley. A mixture of intrigue and even a tad of fear of the unknown.
They hit us in the face somewhat when Trick told Bo about the Fae, but he didn't really reveal much at all. I was surprised she left without learning more. He's going to be a fixture of Fae knowledge for Bo. In order for Kenzi to be allowed in the bar, Bo "claimed" her. How long will it be before she has to stick up for Kenzi? Probably not long with her history.
Bo's introduction to the Fae world didn't take long. She was visited by a Will O' the Wisp that wanted her assistance in finding the person who stole his treasure. In return, he offered to give her some information about who she is. That's an offer that she just couldn't refuse. I don't blame her. She has no clue where she is from or why she is a Fae. Any information would be worth tracking down a thief.
Of course, when the Fae are involved it isn't easy. Bo ended up almost killing a woman with her kiss. Fortunately, Kenzi was there to to stop her. This lack of self-control is something that haunts Bo. This almost-kill got the attention Dyson and the police. Not good!
The trouble only worsened when Bo tracked down the thief. After finding out that he was the son of the Wooden Fae, they were attacked by a headless Fae dressed all in black. Bo killed the Fae and went to Dyson for help.
What the heck kind of Fae is Bo that she can kill the unkillable mercenary Fae, a dullahan?!? Though I guess it can't be that difficult since Kenzi took the one's head and burned it. It was just sitting there for the taking! This type of inconsistency could become annoying if it continues throughout the season. A supernatural show needs to stick to the mythology of the characters. Without rules, the show won't make sense.

What is Bo's story? After reuniting Will O' the Wisp with his son, he kept his side of the deal. He revealed that a Fae midwife took her as a baby to protect her. Unfortunately for Bo, that's all that he could tell her.

Clearly, Bo is special, but how special? The Light and Dark Fae allow her to remain without an allegiance, which supposedly never happens. She was rescued as a baby, but why did she need to be protected? And Trick mentioned that if she's who he thinks she is that she will be difficult to manage. What does Trick know and why didn't he tell her?
The mystery of Bo and who she is has me intrigued and wanting more. Plus, the end between Bo and Dyson - hot! Nice convenience that Lauren's treatment requires Bo to find healing elsewhere. I approve!
Through two episodes have you been drawn into this Fae world? Are you wanting more? What did you think of the Bo and Dyson hook-up?
Please keep your comments restricted to the first two episodes of season one. We don't want anyone to be spoiled beyond what is currently being shown on Syfy. Thank you!
Carla Day is a staff writer for TV Fanatic. Follow her on Twitter and on Google+.