"Leave nothing to chance" is the tagline of HBO's new drama, Luck, and it seems that creator David Milch and pilot director Michael Mann have taken that advice to heart. The first episode is a tightly controlled foray into a world of obsession, high stakes and, of course, horse racing.
But for a show about such heady things, Luck is slow moving. If you're a fan of Milch's past work, you know what you're in for. Those of you who are just getting acquainted with the TV auteur, I have some advice for you: hurry up and wait. It's a common phrase heard around the rails of horse races and horse shows, and it aptly describes the pace of Luck.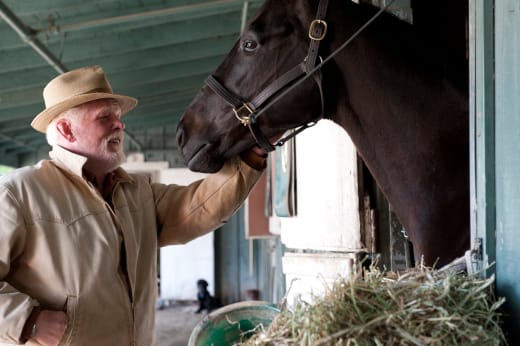 Personally, I'm okay with a slow boil if it allows the viewers to immerse themselves in the world, especially one so deeply detailed as the one depicted here. And you'll need that time; Milch drops us into the story with absolutely no context, which makes for a steep learning curve. Don't know what a Pick 6 is or what some of the racing terms mean? Too bad, because Luck expects you to learn on the fly (but, just in case you didn't Google all the jargon, I've provided a handy reference guide at the bottom of this review!).
So, what do we know? We know that Chester "Ace" Bernstein (Dustin Hoffman) was just released from federal prison after serving a three-year sentence for a white-collar crime. A felon, Ace can't legally own a race horse, so he sets up his driver, Gus Demitriou (Dennis Farina), who he affectionately calls "The Greek", as his front man. As such, Gus is now the new owner of a very expensive, and very promising, horse. What Ace's plans are for this horse remain murky, but I suspect it's part of his revenge scheme that we currently know next to nothing about.
Surprisingly, the relationship between Ace and Gus is gentle, like a father and a son, or at the very least, two guys who have been through a lot together. Outside of his interactions with The Greek, Ace isn't really a gentle guy. He has a quick temper, but his powers to intimidate seem to have diminished in prison. His outburst in his former business partner's office felt impotent, like an old man trying to convince everyone, including himself, that he's still got it. Afterwards, Ace sheepishly apologizes and tries to re-button his shirt, but is that the act of an embarrassed old man or is he putting on a show to help foster his plans for revenge?
While Ace is certainly driving the show at this point, and Dustin Hoffman's performance is wonderfully understated, I find his story much less engaging than those at the racetrack where the stakes feel higher and there's at least some action.
The rather large cast of characters we're introduced to at the track includes fast talking trainer Escalante (John Ortiz) and his overly-conversational bug boy Leon Micheaux (Tom Payne), Walter Smith a.k.a "The Old Man" (Nick Nolte) who works with exercise rider Rosie (Kerry Condan – Octavia from Rome, anyone?) to warm up his potentially Derby winning horse, and a bumbling gang of gamblers who make their picks for the day's races hoping for a two million dollar pay out. Slowly, we begin to piece together the ecosystem of the racetrack.
 
Of all the characters, I feel most connected to Smith, the craggy old trainer whose remarkable horse seems to hold all his hopes for redemption. Boy, that horse can run.
As Milch teases out plotlines of obsession, revenge and redemption, Mann delivers some of the most stunning cinematography that I've ever seen on TV. Every shot evokes a true sense of place – the steam rising off the horses as they exercise in the pre-dawn light, the grungy gamblers hanging around the rails, the bright flash of jockey colors as they tear down the stretch. Several times during the episode we're treated to heart-stopping races that, much like the real thing, are fleeting moments of controlled chaos and sublimity. I'll admit it: some scenes definitely gave me goose bumps.
But the incredible detail of the racing footage is a double-edged sword. When Leon's horse broke its front leg, I gasped. Thoroughbred racing is one of the most dangerous sports in the world, and of course Milch is going to show us its dark side. After the race, Leon meets up with fellow jockey Ronnie (Gary Stevens), and I thought their conversation was really poignant. Check out the quotes page to see what I mean. 
Luck is not a show that lets you turn your brain off, but I think it's better for it. What did you think of the pilot? Are you going to stick with it, or did the slow pace and racing jargon turn you off? Do you think Dustin Hoffman pulls off the Pacino slicked-back hair look? Yeah, I don't think so either.

Luck Reference Guide

Pick 6: A way of betting where the gambler must pick the winning horse in six consecutive races. Due to the difficulty, the payout is usually high. To increase his chance of winning, Jerry, the mastermind of our gang of gamblers, bets on several horses in each race.

Bug Boy: An apprentice jockey. When just starting out, jockeys don't have their pick of mounts and have to ride any horse that comes their way. If they're good (and a little lucky), they'll "be in the money" meaning first, second, or third, and start attracting better horses. Leon hasn't established himself at the track yet as a successful jockey, so he's riding in any race he can.

Exercise rider: Exactly what it sounds like – they exercise the horses. While they don't ride in races, many hope to eventually become jockeys and will often work horses for free for the chance to network with trainers.

Fun fact: Luck features some cameos by racing all stars. Rosie's friend that we briefly see on the sidelines is real life jockey Chantal Sutherland, and Ronnie Jenkins is played by Hall of Fame jockey Gary Stevens.