While Nikita closed out last year with a bit of a snoozer, it opened the new year with action, reveals and heart in "Pale Fire." The changes made this season from Nikita/Alex versus Division to a broader look at their world made the show more exciting. At the same time, the players in the game seemed at times to be in the wrong place -- on purpose.

With the season half over, the payoff is that with the exception of Ryan, everyone has maneuvered to where he/she should be. Well, maybe not Michael, but he will either make the right decision or it will be made for him to leave his son and return to Nikita.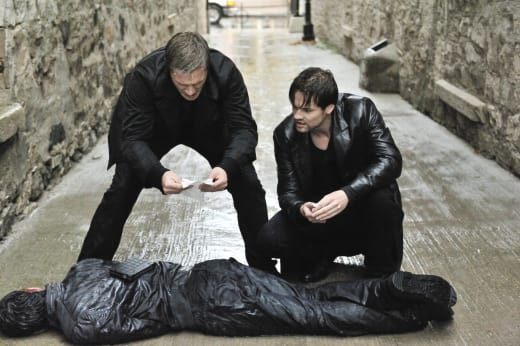 Did you cheer when Alex walked in on Nikita, they looked at each other and lowered their guns? I've missed these two working together. Nikita has always put people first, so it was no surprise that she dropped her quest for the black box to help save Alex's mother. It was heartening to see them work together and have each other's back. Despite everything that has gone down between them, they still care about each other.
As nice as it was to see them working together, it was heartbreaking for Alex to learn the truth about the night her life changed forever. Whether her mother was complicit in her husband's murder is not clear, but her affair with Semak led to that event. When the truth came out, Alex's only happy memories were forever tainted. Alex has continually been let down by those around her.
Now that it seems that Alex is going to work with Nikita again, what does that mean for Alex and Division? And Sean? We haven't seen what he has been up in a while. Assuming Alex is still wearing the watch, he's been tracking her. If Nikita takes her to the new safe house that Birkhoff set up for the team, Sean will know the location and a threat to the team. (I do miss Birkhoff. Glad to see he is back next week!)
While Nikita and Alex were in Russia, Owen and Michael were on the hunt for the remaining black boxes. The fight scene between Michael, Owen and the guardian was impressive. Even though both Michael and Owen are strong and well-trained it took both of them and all they had to bring down the guardian. In the end, they succeeded in destroying two more boxes, but more importantly they got a clue about why Percy brought the guardians out of hiding -- they are going to rescue him. Given how difficult it was to bring down one guardian, it may be their most difficult mission ever to try to stop the guardians
However, a rogue Percy is sure to cause plenty of people trouble: Division, Oversight, Gogol, plus Nikita and team. Who will Percy go after first? He has been betrayed by all. Wouldn't it be intriguing if Percy went after Semak and unwittingly ended up working with Nikita and Alex?
The mid-season premiere was an action-packed way to start the new year. Truths were revealed and motivations became more clear. This was a perfect beginning to the rest of the season. What did you think? Share what you want to happen next in the comments!
Carla Day is a staff writer for TV Fanatic. Follow her on Twitter and on Google+.