"Secrets and Lies" - the first new Pan Am episode of 2012 - brought couples together, tore one apart and featured two sisters determining the paths of their future. Nothing concluded as I thought it would, and by the end of the episode, I was nostalgic for the first nine installments of the fledgling drama.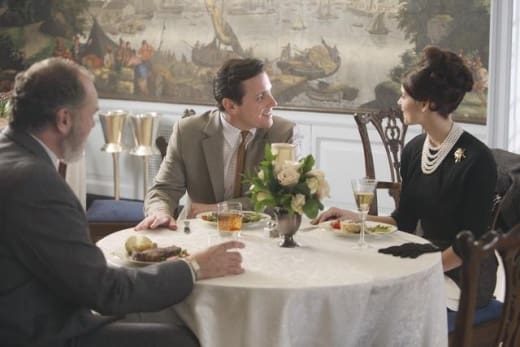 Ted and Laura: At one point in the series, Ted and Laura were becoming fairly close. I would have guessed love was in the air. However, when his old girlfriend came back to town (the one that got away) the night didn't end with his need for Laura to intervene on his behalf and he and Amanda slipped away happily.
Things have obviously been progressing fairly well. The couple shared a dinner with Ted's father, Amanda valiantly stood up for Ted when his dad was making him uncomfortable and later he showed up at Laura's with a gift for her new found photography hobby - and to enlist her help in picking out an engagement ring!
But something else was taking place. Laura needed to learn lighting to take portraits for her photography class. She used Maggie and Ted as models, and as the photos were developed, each time Laura looked at the shots of Ted, "Do You Want To Know A Secret" played in the background. It wasn't just a coincidence that the episode flirted with The Beatles as a pop culture phenomenon. I think Laura is truly falling for Ted.
She definitely grabbed his attention when she told him there are some women who want to wait for marriage to have sex, like Amanda, and then others, like herself. I think Ted's jaw almost fell onto the floor, but she said it so nonchalantly that he thought she was kidding. We all know she was not!
Three's a crowd: Whatever happened with Kate and Anderson and the list and the shooting freed many agents from hiding, including Bridget. She was back for her job and for Dean.
The relationship between Dean and Colette, meanwhile, was taking off quite nicely. But she couldn't be fooled into thinking that if Bridget was back Dean would not want, at the very least, to find out why she had left. She was right. It was so uncomfortable, but Bridget asked Colette to tell Dean to hear her out, believing they were only friends. Collete did and paid the price.
Bridget came clean with Dean, which surprised me. He had her over a barrel, recalling the many men she made eyes with and with whom she seemed to speak in code. The only way he would believe she didn't cheat on him was to hear the truth. She worked for MI6. They're now testing their own undercover allegiance.
Maggie's between a rock and a hard place, politically speaking: In the most unlikely of scenarios, a Republican congressman was chasing down Maggie. It's too bad there isn't a candidate like him out there right now, because he's a charmer. She met both Congressman Rawlings and Mike the reporter on their trip with the nuclear delegates. For Mike, she wrote an article about Rawlings being a death monger, but he didn't think she had the finesse to properly state her argument.
Rawlings fell for her fiery spirit and hoped she could see past his politics to the whole man he was - and she did. They had a lovely day and planned a night together. But Mike needed an article to fill space in the paper, tweaked hers and set it to run. We can only guess how that will all play out in the next episode, but I'd venture to guess it won't be pretty.
Kate wants out: Kate still wanted out of her CIA duties, but in order to do so, she needed to successfully pass a lie detector test while lying. Anderson lied protect her, and himself. He taught her how to pass the test by thinking of questions similar to the one being asked in which the answer you needed to give would suit the test. It worked. In holding his end of the bargain, he said she was free to go, but not without telling her what she accomplished agents with many years of seniority could not have done. Despite her protestations, she is, in fact, a great agent.
She called out his name, ran back to him, talked in secret and dashed away smiling. Was she smiling because of the warm compliments that allow her to leave the life knowing she did right by her country or because, in the end, she decided it was a life she couldn't give up after all? Perhaps we will find out next week when we see an all new episode of Pan Am.
Carissa Pavlica is the managing editor and a staff writer and critic for TV Fanatic. She's a member of the Critic's Choice Association, enjoys mentoring writers, conversing with cats, and passionately discussing the nuances of television and film with anyone who will listen. Follow her on Twitter and email her here at TV Fanatic.