The closing scenes featuring Tony and Ziva - and the impending return of her boyfriend CI-Ray Cruz (Enrique Murciano) - certainly had fans buzzing after last week's NCIS. Now, prepare yourself for the latest wrinkle:
Perrey Reeves has been cast as Wendy, Tony's ex-fiancee.
A quick-witted investigative journalist who goes to whatever lengths necessary to get her story, Wendy will be reunited with Tony and must relive the emotions of their shared past, according to TV Guide.
Reeves' potentially recurring role begins on Valentine's Day.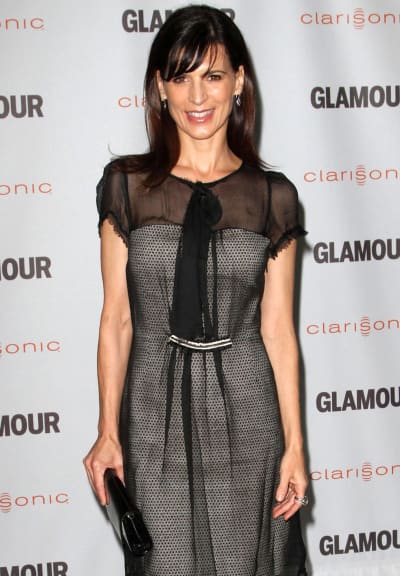 Tony's former engagement was first revealed in "Baltimore," the third-to-last episode last season, during which a younger DiNozzo revealed to his partner in flashbacks that he had proposed to Wendy.
"Wendy has been mentioned many times, and now we'll finally get to meet her," executive producer Gary Glasberg says. "Wendy needed to possess all the qualities Tony would look for in a woman and then some."
"We hit the jackpot," he adds. "Perrey has just the right combination of sass, wit, intelligence and pathos to bring 'Baltimore Wendy' to life. Everyone at NCIS is thrilled she's joining us."
Some fans may not react with similar enthusiasm.
Between Ray's return tomorrow night and Wendy's appearance next month, it seems Tony and Ziva's relationship may not turn romantic anytime soon (or at all). But only time will tell.
Perhaps best known as Mrs. Ari Gold on Entourage, Reeves has also made recent guest-star appearances on such shows as Grey's Anatomy, Castle, Private Practice, and Hawaii Five-0.
Are you excited to meet Wendy on NCIS?
Steve Marsi is the Managing Editor of TV Fanatic. Follow him on Google+ or email him here.