As Charlotte Grayson, Christa Allen is about to take center stage on Revenge: last week's episode concluded, after all, with the bombshell that this character is Emily Thorne's half-sister.
But while the actress couldn't reveal much about what's to come in that regard, she did open up to TV Fanatic in a recent interview. Read for excerpts from the actress, including her take on Charlotte's attraction to Declan and whether or not Revenge makes her yearn for a trip to the Hamptons...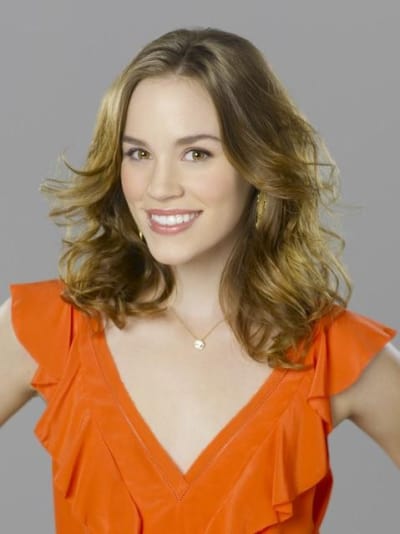 Charlotte and Declan come from such different worlds. Why is she attracted to him?
Charlotte is attracted to Declan for exactly that reason. He is an escape from everything she knows. As much as a poor person might be fascinated with Charlotte's sprawling manor and designer clothing and stable of Grayson servants, she's fascinated with his lifestyle. He's independent. Capable. Knowledgeable. Could probably take care of her better than the pretty boys at the cotillion!
Will Charlotte ever learn more about the David Clarke set up and just how evil her parents can be?
I think it's all going to be revealed to everyone. That's Emily's aim, right? She wants to lay every dirty little secret on the table. Nobody's feelings, even Charlotte's - though she's innocent - will be spared.
Charlotte seems to be the neglected younger sister. How do you think this has shaped her character?
It has made her more independent and capable than she probably should be as a young woman who has been taken care of in every way her whole life. They say all a child wants is their parents' love. Charlotte literally has EVERYTHING but her parents' love.
Does the show make you want to live in the Hamptons, or stay as far away as possible from that area?
I'd love to visit! I've heard it's wonderful. These are all fictional characters... one can only hope that those who summer in the Hamptons aren't living their personal lives quite this way!
What else can you tell us about what's to come overall?
Be prepared to have the questions raised at the beginning of the series answered in a big way!
Matt Richenthal is the Editor in Chief of TV Fanatic. Follow him on Twitter and on Google+.