Seamus Dever on Castle Wedding Episode, Grappling Over Donuts
Matt Richenthal at .
Forget jingle bells rocking. Wedding bells will be ringing this Monday on Castle, as Detective Kevin Ryan exchanges vows with long-time girlfriend Jenny.
In a likely unprecedented set-up, too, the characters are played by real-life husband and wife Seamus and Juliana Dever, as the former joked with me this week about the fictional ceremony providing this couple with a far bigger budget than the one they had while tying the knot five-and-a-half-years ago.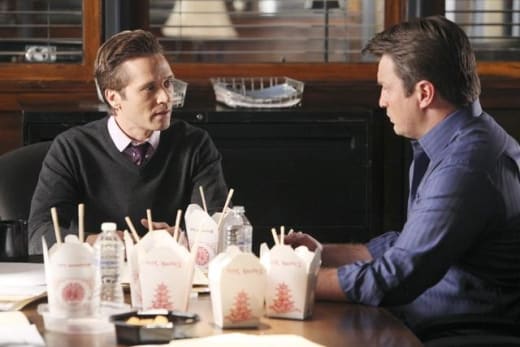 "It was fun to remember that weird cocktail of excitement and anticipation," the actor said of filming the wedding scene. "You have this fear of everything changing and entering the great unknown, but then you're just with the woman you love up there... and Juliana looked beautiful."
Of course, as is the case with most television weddings, this one won't go off so smoothly.
Look for Castle and Beckett to come across evidence on the episode that actually connects Jenny to the Case of the Week in some way. They'll hold it back from Ryan in an attempt to protect him.
But the detective will have a lot more to worry about than some murder investigation.
"He and Jenny go on a three-day cleanse prior to the wedding," Dever said. "We're talking lemon juice, cayenne peppers... and everyone pokes fun at Ryan for not eating, which makes him a lot edgier."
Esposito leads the mocking charge, as you might expect, eating a donut at one point that leads to a wrestling match between partners.
Real tension also arises, as it so often does when it comes to wedding preparation, from seating arrangement and, uh-oh, dates.
"Guests almost have to re-evaluate their own relationships when they get invited to a wedding," Dever said. "Espo finds out that Laney is bringing a date, for example, which is upsetting news."
And what affect does the union have on Castle and Beckett?
"It forces them to reflect on their own feelings, and that's all I can really say," the actor teased, adding that he would give Rick the following advice: Be honest. Be true to your heart. Take a leap.
Amen.
Matt Richenthal is the Editor in Chief of TV Fanatic. Follow him on Twitter and on Google+.