Tonight, the world got introduced to The Finder, Walter Sherman, and his colleagues (for a second time) on "An Orphan Walks Into a Bar."
Most will remember The Finder as a backdoor pilot that aired during the sixth season of Bones. While I wasn't too keen on the idea of this show moving forward to stand alone as its own, I'm proud to declare that I'm a convert with high confidence in its potential.
The Finder has come a long and compelling way from where it was in the spring of 2011.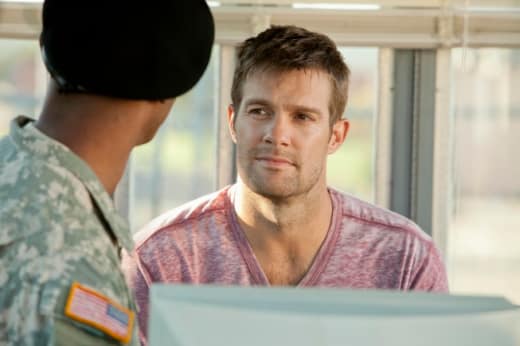 Take the team of Walter, Leo and Isabel for instance. A starkly different chemistry drives this unit time around, largely aided by the recast of the female lead, replacing Saffron Burrows with Mercedes Mahone. I'm loving her character as a sassy US Marshal driven to get her man (or woman).
The same goes for Maddie Hasson as Willa Monday. Willa is quirky and complicated and there is a lot to learn about her. There's definitely a potential for this series, much more so than I would have given it credit for a couple months ago.
With an excellent cast captured, the writing seems to have improved significantly as well. We've come a long way from the Walter who solved part of his case on the commode of a dead man. That was perhaps my largest gripe with the 2011 opener. Besides being wildly uncomfortable for the viewer it was completely unnecessary and awkward.

Little tweaks like these will likely pay off big time.
As for the content of this first episode, I enjoyed watching Walter "find" Cooper's father. The installment did a great job of introducing just what it means for Walter to be "The Finder," what kind of methods he entails and the intuition he employs. He's like Monk... minus the OCD with a compulsion to find things. Feels like a winning combination so far.
I was initially wary of the fact that all the unintended consequences of "finding" were blatantly pointed out to me (i.e. the possibility that Cooper's father was smuggling drugs illegally even though we eventually learned it was for people who really needed it), as it announced subtle points for a person who likes to discover them more organically such as myself. Even so, it made me more compelled to watch the show to see what could happen going forward.
Overall, The Finder made a strong showing for a midseason premiere that had some strikes counting against it from the get-go.
If you were waiting to read this review to decide whether or not to give it a watch, GO WATCH IT! You won't be sorry, and if you are, I'll give you a full refund for this column.
Are you hooked yet? Did the show exceed your expectations as it did mine? Give the premiere a grade:
C. Charles is a TV Fanatic Staff Writer. Follow her on Twitter.