One thing I love about The Good Wife is how it treats its audience like a group of intelligent adults.
This is not a show that dumbs anything down, firing off quick dialogue, technical terms and current event references without stopping to catch us up or explain any nuances. I appreciate the respect the show affords its viewers in this way.
But it was a detriment on "Finding Mr. Bitcoin."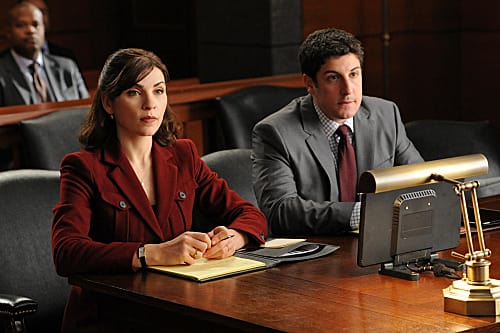 This may have been an all-time episode for computer geeks, but despite my use of this machine for approximately 12 hours per day, I am not one of them.
There was simply too much talk about programming this, binary code that. I understood the general idea of Bitcoin and the case, but I was lost when it came to the details and simply bored by the back and forth between Kalinda and her pair of suspected programmers.
He did it! No, she did it! No, see this line of code, he did it, I swear! This went on for far too long - and it led to a predictable ending.
Of course, Jason Biggs' lawyer played a role in the creation of this commodity. Sorry, judge, I mean this currency. It would have been a rather lame conclusion for the American Pie star's Mr. Stack to just thank Alicia, hand over a cashier check (his use of cash at the outset was also overly foreshadowing) and be on his way.
Elsewhere, Zach is still dating Nisa. These two totally love each other and Zach is using his mother's feud against his grandmother to see more of her and... oh, sorry. I fell asleep there for a second. Look, I absolutely understand that we need to see glimpses of Alicia at home. We need to be reminded that she's a mostly single mother and she often struggles with the burden of her job versus her children.
But can we come up with a more interesting, ongoing storyline for the kids? There might as well be a neon sign flashing the word "FILLER" at this point every time Zach or Grace is on screen.
Finally, there was serious movement in the case against Will. My favorite scene of the hour, by far, was Elsbeth once again doing her quirky thing in her under-reconstruction office. I laughed out loud when those two workers wandered in.
Moreover, it was nice to see some continuity, as the major angle from last week's terrific episode came into play again here, placing Kalinda in an impossible situation. Did she tamper with that case file? What exactly is so damaging about it in the first place? Are we to believe that Will actually did bribe a judge?
I doubt the answer is that simple, but I also doubt Will is completely innocent. Heck, this episode started by reminding us that Diane and Will are all about money, as the former comforted the latter about the Bitcoin case by saying it wasn't mere charity... there was major cash on the table! I can't think of another drama that would so blatantly paint main characters in this sort of greedy light. It's great, as is the fact that Kalinda called Diane out for wanting to be kept in the loop regarding Will so, in Kalinda's estimation, she can know when to cut ties.
Or is it when to help, as Diane insisted? I really don't know, and, despite my complaints about this episode in particular, that's what makes The Good Wife so intriguing.
** The Good Wife takes next Sunday off and returns on January 29 with an episode that, as depicted in this preview, seriously raises the stakes.
Matt Richenthal is the Editor in Chief of TV Fanatic. Follow him on Twitter and on Google+.