As board member of Walden Loves Bridgette Enterprises, Alan remained true to what's been a season-long theme on Two and a Half Men this week: the guy acted like the biggest scum bag ever.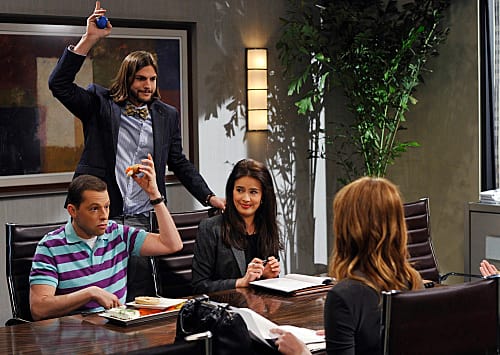 I can handle scum baggery, but the very idea of the man suddenly giving up his loyalty to Walden for a red Porsche and a touch from Walden's mother - that could only be described as "Slowly and in a Circular Fashion" - seemed ridiculous, considering he passed on selling on Walden's very expensive rhodium wedding band.
Now, suddenly, the irritating little douche required a multi-million dollar bribe of his name on the Malibu beach home to remain a loyal friend? Sure, I'll buy it for the purpose of this episode. But it's going to make me look at Alan a little differently the rest of the season.
The episode was also too dependent on Walden and his new array of supporting characters (Bridgette, Zoe, and Robin), all of whom were situated around the board room table.
After the midseason finale, I realized the series was going to closey follow the show's new Rose, Bridgette. And that's fine, I know Judy Greer is more than capable as taking over as the resident crazy lady. However, this week, she appeared much too sane, plotting with Robin to protect Walden's money from his investments. All this talk of fiduciary responsibility was far too... sensible. After driving through the house, I'm going to need a little something more than mother manipulation.
All in favor of never heading back to the Walden Loves Alan Enterprises board room? Aye. And bringing back more old Men supporting cast members? Seconded.
Eric Hochberger is the programmer of TV Fanatic, so please forgive his mediocre writing. His programming is far better. Follow him on Twitter and/or email him. Just don't request threaded comments. They're coming.