After a very long few months away, White Collar's Neal and Peter were back in the game in "Checkmate." But in this game, the stakes were more than the treasure that Neal and Mozzie took such care to conceal, as Elizabeth's life hung in the balance.
Following the midseason bombshell that was Elizabeth's kidnapping, White Collar wasted no time in pushing the intensity of the show and its characters to a new level.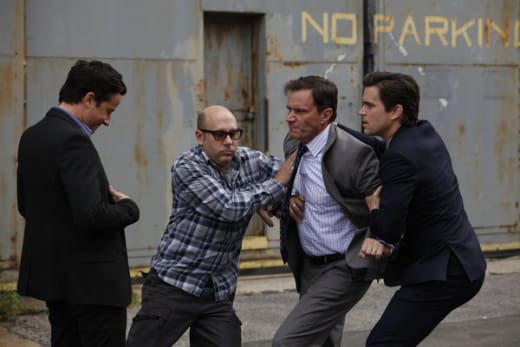 Perhaps the most infamous villain, Keller, went from running the game to being a manipulated piece in it. The most surprising element was not the turned tables, but who chose to turn them, as Peter seemingly tapped into con-mode, emulating Neal's quick thinking and scheming to reclaim the treasure.
It was no surprise, given Peter's motivation to save his wife and partner-in-crime. Of course there were no limit to how far he would go to get her back. 
I would argue that this episode was Tim DeKay's best performance as Peter Burke. He went from distressed husband to convincing ringleader in a very delicate con with ease. Peter has progressively become more open to alternative tactics when it comes to taking down criminals, but the assertiveness with which he took the reins here was a welcome sight.
As much as Peter's mission to save his wife was compelling, so were Elizabeth's efforts to save herself. I have always maintained that Elizabeth Burke is one of my favorite leading women on television for her strength and resolve both as a wife and as an asset to her husband and the team in previous cases.
I think her decision to psychologically toy with her captor was a nice touch. Even better, she was successful.
Above all else, I appreciated that, in the end, Neal's decision to do the right thing and come clean coincidentally resulted in his opportunity to become a free man. Particularly reassuring was the fact that even though Keller took responsibility for the treasure's theft, Neal struggled with - but ultimately rejected - the impulse to do anything about it. I am really starting to have faith in him.
Then again, remember that Neal made a comment earlier in the season about truly having to hit rock bottom in order to change. I don't think Neal has truly hit rock bottom yet, though the argument could be made that his connection to the treasure and Elizabeth's abduction could qualify as dangerously close to that.
Other highlights:
Neal's recollection of the story of the pigeon who saved 200 lives.
Mozzie's part in the con which required him to rat out deserving colleagues.
The slightly cheesy but still epic gladiator showdown between Neal and Keller.
It's going to be quite an exciting season 3.5! You have NO excuse NOT to tune in! Do you think Neal will be a free man in three months? Can he be fully redeemed? Watch the official preview for next week's episode now!
C. Charles is a TV Fanatic Staff Writer. Follow her on Twitter.