"Leap Day" was an episode of 30 Rock I respected a whole lot more than I laughed at.
Between the creation of this fictitious holiday, everyone's absurd involvement in the day's festivities and especially the development and execution of the faux movie starring Jim Carrey, the outing was a lot of fun, if not all that overtly funny.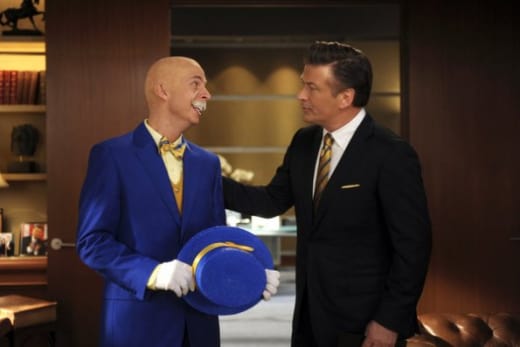 Steve Buscemi, who earned his second 30 Rock directing credit this week, made the episode enjoyable. Everyone watching Kenneth direct traffic as the office's very own Leap Day William, or the fantastic transitions between Leap Day past, present, and future for Jack, are a couple of examples of the magical feeling to the half hour.
Sure, there were some outright funny moments, but not nearly as many as the standard episode of 30 Rock. Tracy thinking that Dot Com is his imaginary friend is absolutely hilarious, especially when Dot Com continues to give him evidence to the contrary.
A few other highlights were Liz coming up with lyrics to the cantina song from Star Wars, and Jenna's ridiculously detailed and off-putting story she told in trying to describe a turtle.
I also loved everything about Jim Carrey and Andie MacDowell in Leap Dave Williams. You have to give it up to Jim for playing this role that is such a play on the roles he has done in the past, like Bruce Almighty or Liar Liar. He just ran around like a crazy person, sporting gills, a twirling white mustache, and a top hat, and I loved every second of it.
The low-light from "Leap Day" had to be Steve Little as Thad. Season two of Eastbound & Down absolutely ruined him for me. His performance here wasn't funny at all, but Jenna and Liz were pleasant enough to make that plot a wash.
What about you? What did you think of this week's episode? Did you respect it as much as I did? Did you laugh much more? What was the funniest part?
Before sounding off in the comments, check out all of the best lines in our 30 Rock quotes section.
Dan Forcella is a TV Fanatic Staff Writer. Follow him on Twitter.