Welcome to the Top 24! Tonight the top 12 13 guys take the stage to perform live with the American Idol band on Idol's brand new stage. And Ryan's hair takes its own zip code.

Speaking of this brand new stage, it's very gold. Very flashy. Very special-effects. Very, dare I say it, X-Factor.
Gone is the Coca-Cola lounge. Gone are the backless, uncomfortable stools contestants sat on when they weren't performing. In fact, there appears to be no seating for the girls at all. They're all standing in the pit in front of the stage. Perhaps they spent too much on the lighting and there just wasn't any room left in the budget for seats.
In addition to performances this week, we'll be learning a little more about each person through the handy, dandy Contestant Cams. This will, no doubt, make it harder for us to say goodbye to some. But say goodbye we must. By Thursday evening we'll be down to our Top 13 Finalists. (America will vote through five guys and five girls and the judges will each pick one contestant to save.)
Let's see how the guys did first.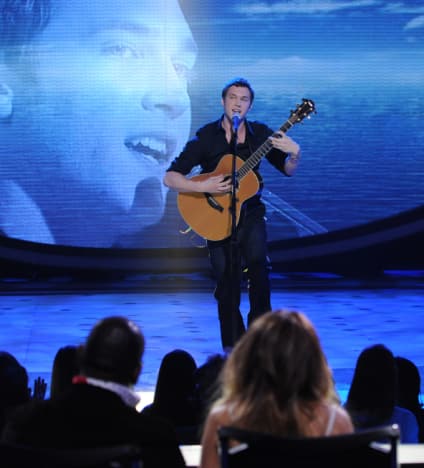 First up, we're headed home to Wisconsin with Reed Grimm where he shows us that his hometown is famous for cheese curds. (Is it just me or does the word "curd" automatically make you not want to eat it?) Reed sings "Moves Like Jagger" from Maroon 5. I like a little less Michael Buble in my Adam Levine, but I was at least entertained. The judges loved it, of course. Reed is certainly talented and the judges loved his version of the song, comparing his jazz stylings to last season's Casey Abrams. I'll be generous since he's the first up of the night and that's got to be tough. 4/5
Adam Brock shows us his cute baby girl and reveals that he's a trained chef in his "real" life. And then he says, again, that there's a "big black woman trapped inside him" and he's ready to show the world "White Chocolate." He sings Aretha Franklin's "Think (Freedom)." Again, the judges love it. Steven called it "brilliant." J.Lo said he "delivered some big moments at the end" (uhhh...just...nevermind). It was a weird song choice, if you ask me. I really, really like Adam, but he's Taylor Hicks-ing himself by picking songs that are dated. He's much better than Taylor, but still, the comparison's not good. 2.5/5
Michael Bolton Deandre Brackensick is only a senior in high school. He seems much, much older. It must be the hair he's so fond of using as Hairography. He sang Earth, Wind, and Fire's "Reasons." The judges and I did not, apparently, hear the same performance. They loved it. I couldn't understand a word he said. They love his falsetto. I hate it. I don't think America's going to like it either. This is a lesson in choosing the right song, and Deandre chose wrong. 1/5
Mr. Eye-Sex, Colton Dixon, is up next singing Paramore's "Decode." He says we're used to seeing him behind a piano so he's going to change it up a bit. By...sitting behind a piano? At least for the opening of the song. Colton seems to know who he is and wants to be as an artist and that will benefit him in the long run. His performance is the most entertaining of the night so far, even if J.Lo wore her confused face for the whole thing. Randy says he's excited to have an Indie/Alt-Rocker on the Idol stage. All three judges bring up the fact that Colton was there last year and they're glad he's back this year. Colton gets a 4/5
Jeremy Rosado is the "spirit stick" of the group. He's the positive, upbeat, nobody-gonna-hold-him-down contestant. Except gravity, apparently, as we see him fall during a blooper of the silly dance montage aired at the end of last week's episode. That's the song he sings--"Gravity" by Sara Bareilles. He had a couple of moments where he struggled with the big, booming notes, but the soft side of his performance was solid. He's a sweet soul and the judges all pointed out that when he sings, people emote. 4/5
Ryan asks Steven how he's feeling tonight and Steven says he's as confused as a baby in a topless bar, y'all. It seems J.Lo's getting more press than he is despite the fact that he stripped down to his skivvies and jumped into the water at La Reve last week. In order to fill out waste some time in this two hour show, we're going to talk about J.Lo's Oscar dress. Because it hasn't been talked about enough in the past two days. Keep it moving, Ryan. We can hear J.Lo say "there was no nipple" as the camera pans away. So now it's official, y'all. There's nothing to see here.
Atlanta native turned New Yorker, Aaron Marcellus, sings "Never Can Say Goodbye" by the Jackson 5. During his intro we learn that he sings, dances, and plays piano, which one would think would benefit him during a performance. Vocally, everything was where it should have been, but he worked the stage awkwardly. J.Lo and Steven loved it and danced along in their seats. Randy said "Boy can sing." I think he's safe for another week at least. 3.5/5
Harry Connick Jr. stopped by to show us his apartment in West...oh, my bad. This is Chase Likens. His hidden talent is--wait for it--whistling. And he has horses. Which are just like dogs. Because you have to feed them and water them. (I rolled my eyes.) He sang "Storm Warning" by Hunter Hayes. Steven said he looked like Brendan Fraser and said he was going to make a lot of "mummies" crazy. (I rolled my eyes again.) J.Lo complimented his movie star good looks. Randy said "you're ready!" Here's a word to the wise - when the judges compliment you on NOT your vocals, it's a sign that perhaps your vocals weren't good. And Chase's weren't. 1/5
Creighton Fraker's definitely an individual. He's quirky. But almost in a Norman Gentle way where I'm not sure I can take him seriously. I mean, he's swordfighting a fire hydrant. However, he says "You have to be who you are..." and then does a fantastic job with "True Colors." The song was a perfect way for him to introduce himself to a live audience and live performance. Randy said "Dude. You can definitely sing." It's clear the judges want him to stay in this competition, and even though I think his particular brand of quirk borders on annoying, I want him to stay too. His performance was too good. 4/5
If a young Johnny Cash and Dave Matthews had a love child, that child would be Phillip Phillips. Through his Contestant Cam we see that he has what seems to be the most supportive family in this whole competition, at least of the families we've seen. He says he just wants to make great music. He took the stage and sang "In the Air Tonight" by Phil Collins. As I've said week after week, he should always be behind the guitar because that's his sweet spot. Steven said it's not easy to have such a growly voice and change other people's songs to fit a voice like that. Randy said he wasn't wild about the changes to the melody but still thinks Phillip is one of the most talented in the competition. It seems pretty clear that he's destined to make that great music he wants to make. 4/5
The youngest contender this year, Eben Franckewitz, is definitely going to draw the Bieber vote even if his performances are all as lackluster as this one. He sang Adele's "Fire to the Rain." The problem with singing a song as hot as this one (pun sort of intended) is that if you're not better than the original, you sound like bad karaoke. Really bad. And he did. I almost think a stage effects guy said "Hey, Eben. If you sing this song, we can totally use some cool lighting that looks like fire and some that looks like rain! It'll be totally bad ass!" And Eben did it. Randy said he hit some flat notes in the middle but managed to pull through in the end of the song. Steven suggested he listen to Blues records. I suggest he not try to sing Adele - ever again - and stick to songs in his age group. 1/5
Hey Jude Heejun Han got his mom to dance on camera. When she sees this, he's probably going to lose his inheritance. He's chosen "Angel" by Robbie Williams. J.Lo said his voice is smooth as silk, but said she's not sure that song was the best choice. Steven sang "Heejun, you sure can sing" to the tune of "Hey Jude" and agreed that the song choice maybe wasn't fantastic. Randy said he's "mad talented" but, again, the song choice wasn't great. Then Ryan asked Heejun why he chose that song and I'm not even sure Heejun was coherent in his response. I like the guy and want him to stay around, but performances like that won't help him overcome the obstacles Asian contestants have had on this show. 2.5/5
Joshua Ledet has been nicknamed "Mantasia." I know she was a winner and all, but I'm still not sure that's a comparison I'd want since a lot of people find her annoying. (See also: Taylor Hicks.) Joshua's singing Jennifer Hudson's "You Pulled Me Through." Randy channeled his inner Stevie Wonder and jammed at the table. All three judges gave him a standing ovation before Randy asked for an "Amen up in here" and said "this is what singing is about." The J.Lo said she wanted to punch him. Because he's talented. Steven said Joshua "was the voice the world's been waiting to hear." It was good, but I can't imagine listening to it on the radio. I give it a 3/5.
Finally, taking Pimp Spot tonight, is our mystery contestant. I am unamused by the wait. Our 13th guy turns out to be Jermaine Jones. He sings "Dance With My Father" in his ultra-low baritone. I remain unamused. If the judges and producers are expecting Jermaine to go all the way to #1 like Melanie Amaro did, they're going to be disappointed. I don't think he'll make it through Thursday night. 1/5
So that's our Top 13 guys, y'all. We're already starting this season out proving that song choice is everything. EVERYTHING. The standouts of the night were the guys who chose songs that were appropriate for their chosen genre of music which could also be songs we'd want to hear on the radio (as sung by the contestants and not the original artist). Six of these guys, possibly seven depending on the judges' picks, will make it through to next week.
My guesses on who's making it through to next week based on America's vote? Phil Phillips, Colton Dixon, Reed Grimm, Creighton Fraker, and Adam Brock. I could see the judges throwing a safety net to Joshua Ledet and maybe even Jeremy Rosado.
How did you think the guys did tonight? Who do you think will make it through to next week?



Miranda Wicker is a Staff Writer for TV Fanatic. Follow her on Twitter.