American Idol has promised four hours of performances this week, so if we're going to make it through all of them, we better get started with the first two. Here goes nothing, y'all.
It's Group Night. Last minute practice sessions are happening all over the inside and outside of the convention center. These contestants seem like the most unprepared groups in recent history and their performances back me up on that. Lady cop says she'd never go through this again if she had to. If we're lucky, she'll only have to do this once and that's all we'll ever see of Alisha Bernhardt and her F-bomb dropping ways.
It's also Solo Performance night. With musical accompaniment.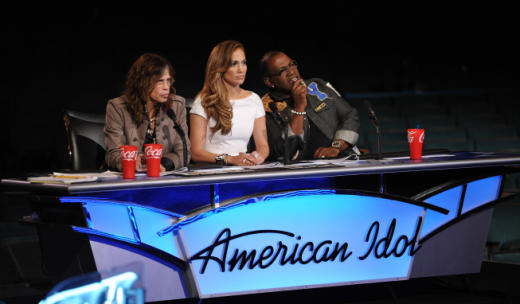 The Bettys are up first. Last week's episode showed some serious instability in this all-female group, as three of the five ladies headed off to bed while Brianna Bell and Jennifer Malsch stayed awake to practice. Practice paid off for Jennifer and she's one of the two members from the group to make it through. The other member to survive is Cari Quoyeser. After finding out she's been cut, Cherie Tucker runs to the toilet to puke. Apparently she caught group member Gabrielle Cavassa's stomach bug.
(No more puking, Idol. NONE. Do you hear me?)
A group calling themselves GrooveSauce - comprised of Reed Grimm, Creighton Fraker, Jenn Hirsch, Nick Boddington, and Aaron Marcellus - are up next. And so are the rest of the contestants in the audience as they all rise to their feet to clap and sing along. "Amazing!" proclaims Randy. The judges are nothing but complimentary. With no deliberation at all, all five advance to the next round.
Six Seven Nine (or 6, 7, 9?) is dominated by Brielle Van Hugel and her Stage Mom. Last night, Stage Mom said the weakest performer was opening their number. That opener is Kyle Crews, who definitely struggles. Joshua Ledet does a solid job and Shannon Magrane closes the performance. One group member, Amber Holcomb, didn't seem to get a moment in the spotlight. Probably because Brielle hogged it all. Amber makes it through anyway, as do Joshua, Brielle and Shannon.
Tent Girl and her group decided to call themselves The Make You Believers. Before they can perform, Jacquie Cera hits the floor and the foursome temporarily becomes a trio. Jacqui's a trooper though and decides the show must go on. Dustin Cundiff leads them off by forgetting the lyrics. Amy Brumfeld (Tent Girl) jumps in to help him out. Except she forgets the lyrics, too. Mathenee Treco tries to rescue their performance, or at least his own. Jacquie closes them out by hitting one rotten note. Her recent fainting spell didn't save her. Mathenee's the only one to make it through. It's back to the tent for Amy. And back to wherever home is for Jacquie and Dustin.
Ryan tells us via voiceover that the middle of the day gets a little hairy for some contestants as "the pressure to deliver starts to take its toll on the stage." Basically, people start forgetting the lyrics. Rule number-one of Idol? Don't forget the lyrics!!
Lyric Forgetters (Not)Anonymous include: Crystal Duffield and Jasmine Antoine. And then there were The Mumblers, The Oh-oh-oh-ers, The Yeah-yeah-yeah-ers, and those who just ad lib with things like "I really blew my shot this time. I can't believe this is happening. It's so surreal."
Except it's totally real, sweetheart. Totally.

Steven calls it "a trainwreck and a comedy of errors." Truth bomb, Steven.
These Girls and That Guy, the group kind enough to take in Lady Cop Alisha Bernhardt, take the stage. Thankfully, Christian Lopez seems to be over his puking spell from the night before. (Thank God.) Except all that puking must have made him sleepy because his eyes were closed throughout his entire performance. Alisha took the second part of their number and bombed. Completely. None of them made it through, but before she left the stage, Alisha offered her Lady Cop services as personal security should any of the judges ever find themselves in need.
Area 451 has a fainter in its midst. Imani Handy hits the deck. The group... uh... regroups.

David Leathers, Jr., Gabi Carrubba, Eben Franckewitz, Ariel Sprague, and Jeremy Rosado are the Nouveau Mousketeers accompanied by a throng of stage parents. Except they called themselves The Hollywood Five. Jeremy is the elder statesmen of the group at a whopping 19 years old. All five of the young and talented are staying. (Prediction: Eben Franckewitz drops or changes his last name at some point in this competition. I mean, all the cool kids are doing it. cough LaurenAlainaSuddeth cough.)
Outside, Area 451 is still reworking their number. Imani makes plans to join them on the stage. Except she hits the floor again on the way backstage. But y'all, the show must go on for her, too! They take the stage and Bryce Garcia forgets his lyrics. Johnny Keyser picks up the slack, strong as ever, while Kristi Krause just screeches. It's Imani's turn. She starts to sing! She's belting out the words! And then? Down she goes. Again. Before she fell over, she was doing a great job for someone who'd recently been lacking oxygen to the brain. Johnny makes it through. The others are goners.
It's also the end of the road for Reis Klockener, Symone Black, and soon-to-be father W. T. Thompson.
M.I.T., "Most International Team," closes out Group Round. Richie Law asks for the confessional cameras to keep rolling after the whole group leaves so he can say how much better he is than the rest of them. On camera. Heejun Han opens their performance. He, Jairon Jackson and Phil Phillips give strong-ish performances, but certainly not their best. Richie tries a country falsetto. All four of them make it through and Heejun looks completely shocked. After they leave the theater, Heejun apologizes on camera to Richie's parents for all the "craps" he talked about their son which they'll see when this airs. Richie does not reciprocate.
We also learn that Erika Van Pelt, Adam Brock, Howie Hallie Day, and Elise Testone made it out of Group Round and on to the final round of Hollywood Week.
Whew. One hour down. Group Round is done. Now we're moving into the final round of Hollywood Week--Solo Performances with either the Idol band as back-up or while playing their own instruments.
As the band warms up, the judges and contestants take the stage for a little impromptu performing. Adam Brock gets to scat with Steven Tyler while Randy jams on the bass. I'm pretty sure Adam died and went to Heaven.
First up in Solo Performance Round is Joshua Ledet. He tells us he almost didn't get on the plane due to anxiety. He sings Christina Perri's "Jar of Hearts." And he kills it. The breaks in his voice fit the song. The judges give him a standing ovation.
Colton Dixon plays the piano and sings "What About Now." While having eye-sex with the camera. I was almost too distracted to notice that his voice has no power behind it. Almost.
Phil Phillips plays the guitar. He's clearly most comfortable as a performer when he's playing an instrument. He could take a few lessons in eye-sex from Colton, because he kind of makes some faces that are less than appealing when he performs. But the guitar? There's just something about him and that guitar.
Jen Hirsh is the first girl of the day to perform. Until she hit the chorus, I had no idea she was singing "Georgia On My Mind." She kind of screamed it, to be honest. Maybe it's because she followed Phil and Eye Sex, but I wasn't as impressed as the judges. Good for her, I guess.
We get "What A Wonderful World" from Creighton Fraker. He sings it well, but there's something about him I just don't like very much. His voice is a little whiny for my taste.
As if it's somehow related, Ryan points out that it's pouring in Southern California and that the weather "must have put a damper on the performances." (Ba-dum-chhh!) Some of the contestants just don't have what it takes to make it in the competition.
The producers throw a curveball at Reed Grimm and tell him that he can't perform a capella as he'd planned and must instead rehearse something he can sing with the band. In only 30 minutes. Luckily, since Reed has to go outside and into another building in order to meet with the vocal coach, it's stopped raining. But going outside takes him totally out of the zone and he just can't seem to focus. In the middle of his performance, he needs to call his Mama but the vocal coach won't let him.
Shannon Magrane "hopes to hit a home run" (Again: Ba-dum-chhh!) with "What A Wonderful World." THIS is how it's done, Creighton. Just exactly like this. Way to go, Shannon.
Reed has 15 minutes to go before he has to perform. And suddenly, he's having second thoughts on whether or not he's even supposed to be there. He goes upstairs to his room to make that call to his mom and have a good cry. With 2 minutes to go, he decides to sing and - for the first time ever on Idol I think - play the drums. It totally works for him and he performs an excellent rendition of "Georgia On My Mind." Randy compares him to last season's Casey Abrams.
Ugh. More people with The Sicks.
Skylar Lane's been at the hospital for exhaustion and dehydration, but she says this performance is only one minute long and she feels confident she can do it. She's a mixture of Lauren Alaina and Rachel Dratch. And the Rachel Dratch-ness of her causes me to be unable to take her seriously. Steven, however, says she just gave one of the best performances he'd seen all day.
Single mom Rachelle Lamb was in the jam session with Steven and Randy and might've used up all her vocal mojo then. She restarts her song but doesn't seem to gain her footing in the performance.
Adam Brock, new dad, gets on the stage and calls himself "White Chocolate." (Which isn't actually chocolate at all, in case you were wondering.) He sings "Georgia On My Mind" and sounds a little like Joe Cocker. Aside from the horrid face he makes at the end of his song, his performance is spectacular. And then he actually utters the phrase "the show must go on" when he tells the judges about the significance of the white handkerchief in his pocket. It was his grandfather's who passed away in the middle of a run of a show. But the show must go on, you know, so Adam's mother passed the handkerchief on as a good luck charm. Steven also wiped his sweat on that handkerchief, so Adam calls it "doubly blessed."
Now it's time for the judges to deliberate and make the next round of cuts while the contestants are put into four chairless rooms. (Seriously? They can't even get chairs??)
Room 1, containing Adam Brock, Joshua Ledet, and Howie Hallie Day, among others, is moving on.
Room 3 is a mixture of tears and laughter. Nervous laughter. And the criers in the room are asking for "respect" for their emotions. I mean, how dare anyone try to cope with the tension, right?
Room 2 is through. We'll see Phil Phillips, Shannon Magrane, Reed Grimm, Skylar Lane, and Jessica Phillips again.
The judges finally enter Room 3 and ask what the vibe's like. Probably not the best question to ask, but whatever. Jennifer Malsch, Rachelle Lamb, and NBA dancer Brittany Kerr are heading home.
Room 4 has just been hanging out this whole time and apparently didn't hit the producers' radars without any drama. Heejun Han, Baylie Brown, Richie Law, and Lady Gaga wannabe Angie Zeiderman are moving forward with the rest of Room 4.
Randy, Steven, and J.Lo tell the contestants they'll be travelling to Las Vegas to perform, once again, in groups. And faint some more, apparently. We'll find out tomorrow night.
What'd you think of tonight's supersized episode?


Miranda Wicker is a Staff Writer for TV Fanatic. Follow her on Twitter.