Last night, we saw American Idol hopefuls sing in groups and by themselves and then learn their respective fates in those garish, chairless rooms.
Over the next two hours, the 69 remaining contestants will travel to Las Vegas to perform on the Viva Elvis stage in their last bid to make it to the Top 40. What happens in Vegas tonight isn't staying in Vegas. Some contestants will return to LA while some will be going home. 
Ryan's voiceover promises that tonight will be full of drama and surprises. I mean, it is Vegas after all, and anything can happen.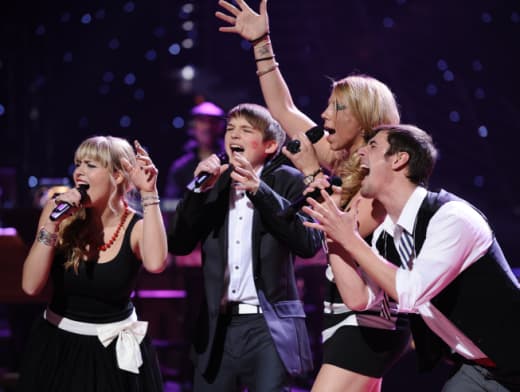 Prior to leaving LA, contestants formed groups of 3 to 4 for their Vegas performances and were assigned a song from the 50s or 60s. Upon arriving in Las Vegas, they immediately got to work rehearsing with one of the American Idol vocal coaches. All contestants will face the possibility of elimination immediately upon the end of their performance.
For Skylar Laine, this performance is proving quite difficult. The harmonies aren't coming easily for her group, and she and other members--Colton Dixon, Cari Quoyeser, and Chase Likens--are relying on one another to make it to the next round. Colton gives the camera, and probably J.Lo, a little more eye sex, and Chase looks a little like Harry Connick Jr. Skylar and the boys make it through and Cari's eliminated. Here's to more eye sex.
The Nouveau Mousketeers have teamed up again to sing "Rockin' Robin." They've had problems with their arrangement and everyone getting a moment in the sun. Gabi Carrubba feels like she's carrying the whole group and David Leathers, Jr. calls her a diva. Jeremy Rosado certainly shines, as does Ariel Sprague. It's no surprise that they're all moving on.
Oh! Great Balls of Sequins! Adam Brock shows off just how talented he is by channeling his inner Jerry Lee Lewis on the piano. Erika Van Pelt knows how to work a stage and an audience. She does not know how to work pleather. Angie Zeiderman shows that, yep, she's still weird. Shelby Tweten was the weakest of the four. Somehow, they all survive.
After making the announcement that they'd all made it, Steven remarks to Angie "For a skinny little girl, you don't have many tailfeathers, but you sure shook 'em." I just...oh, Steven.
Schyler Dixon, Brielle Von Hugel, and Molly Hunt have dressed themselves like USO girls in hot pants and choreographed a little number that showcases Brielle's talents over that of the other two. Naturally. Molly barely gets to sing and that sends her home while Brielle and Schyler advance. (If Idol doesn't pan out, I feel like Brielle could give Snooki a run for her money as an up-and-comer on Jersey Shore. She's certainly got enough diva in her to hang with those girls.)
Singing "The Night Has A Thousand Eyes," Reed Grimm, Eben Franckewitz, Elise Testone, and Haley Johnson take the stage. This isn't Eben's strongest performance and poor Elise looks like a fish out of water with some of the choreography, but she beatboxes and the judges love that. Reed seems incredibly comfortable on the stage. Maybe he called his mama again before they went on. All four are safe.
The night's only group of two is made up of Richie Law and Jermaine Jones, two baritones. Richie thinks the combination of their deep voices is going to be great, but true to Richie form, he quickly tells us that all the problems they're having aren't his fault. Jermaine's got the wrong melody. Debra, the vocal coach, is making the song too unoriginal. After they receive compliments from the judges, Richie says how nice it was to sing with Jermaine and how he's glad they were a "duo" instead of a "duel." They both make it.
In a quick montage, we learn that Howie Hallie Day, Baylie Brown, and Chelsea Sorrell have all made it out of their groups.
One of the vocal coaches this year is Peisha McPhee, mother of former contestant Katherine McPhee (who's now starring on Smash, which is, well, a smash!). She's working with Jessica Sanchez, Denadre Brackensick, and Candice Glover on Buddy Holly's "It Doesn't Matter Anymore." Or something like it at least. There was so much going on with the song they were all barely intelligible. J.Lo, Randy, and Steven loved it. Or they at least loved Deandre's hairography. They all made it.
So far tonight, at least from what we're seeing, more contestants have made it through than have been sent home. And then we learn about the twist Ryan foreshadowed at the beginning of the episode. Those who sang on the first day may not be safe after all. Once the judges see the performances from day two, they'll compare the safe contestants from day one to the performers from day two and make another round of cuts. Good luck sleeping tonight, contestants.
Finally, we have an Elvis song on the Viva Elvis stage. Clayton Farhat, Scott Dangerfield, Adam Lee Decker, and Curtis Gray sing "Jailhouse Rock" to open day two. Randy looks confused. And I am confused, so at least neither of us is alone. They're all screaming their parts and the harmonies are non-existent. Steven says they overdid it on what is supposed to be a simple song. Scott and Clayton make it through. So does Adam.
More Elvis numbers come from Joshua Sanders and Caleb Johnson who channel their inner Fat Elvis and sing "Hunk'a Hunk'a Burnin' Love" while Joshua Ledet and Shannon Magrane's group sings "Blue Suede Shoes." From their groups, those four make it through.
Britnee Kellogg, Courtney Williams, and Jessica Phillips sing "You Keep Me Hanging On." Courtney's dress is two sizes too small and I'm kind of afraid we're going to see something inappropriate while she's dancing around up there. The judges aren't complimentary, and for maybe the first time tonight, I feel like I'm watching the same performance as them. Brittnee and Courtney make it through, but it's curtains for Jessica Phillips. Talk about your awkward moment when Jessica says, basically, that Brittnee and Courtney aren't real artists and won't sell records should they win. While they're standing right beside her.
The vocal coach from Hell is in the house, y'all. Peggy Blu tries to shake some sense into Lauren Gray, Mathenee Treco, and Wendy Taylor. Her tough-lovin' ways work magic for Lauren and Wendy, but Mathenee's out. Now if only we could get Peggy to moonlight as a tough-lovin' stylist for some of these girls...
Heejun Han uses his Asian Persuasion (a hug) to warm Peggy up. It works. She's nicer. Heejun, Phil Phillips, Neco Starr, and Jairon Jackson slow things down a bit during their performance and sing "I Only Have Eyes For You." Phil seems uncomfortable until it's his turn in the spotlight, and the performance is spotty for all four guys. All four make it through. And Heejun turns into a blubbering mess.
Closing out the Vegas group round is GrooveSauce minus one. Since Reed had to join another group, Jen Hirsh, Nick Boddington, Creighton Fraker, and Aaron Marcellus try to move on without him. Vocal coach Peisha McPhee says their harmonies are great, but they have to remember that this is a competition. They must find ways for each member to shine during the performance. For the most part, they do. All members except Nick advance.
Since the judges eliminated so few of the 69 contestants they heard sing over the course of two days, they're moving forward with that round of cuts they told the Vegas day one contestants might be coming. Groups are called one by one and further cuts are made. Gabi Carrubba is the first to go. Schyler Dixon's also going home and big brother Colton is crushed. Also saying goodbye are Angie Zeiderman, Candice Glover, Johnny Keyser, Jairon Jackson, and Brittnee Kellogg.
All in all, the judges cut 27 people at the end of day two in Las Vegas. The most surprising elimination for me is Johnny Keyser. I didn't see that coming. Neither did anyone else, apparently, since all they gave us of Johnny for the entire episode was him in a hot tub. (Which, thanks for that at least.)
For the most part, tonight's performances were just okay for me. Some of them were all over the place and I feel like the judges weren't hearing the same thing we were at home. I'm sad to see some of these contestants go, namely Johnny and Schyler, but I'm excited that we're one step closer to the Top 24 when the competition really fires up. What did you think of tonight? Who were you sad or most surprised to lose? Are there any contestants you're excited to see still around?
Miranda Wicker is a Staff Writer for TV Fanatic. Follow her on Twitter.