Wow. Who would have thought for these last six epiosdes months, Ray has been faking it?!? I mean, don't get me wrong, it sucks standing around waiting for a cab and all, but... what!?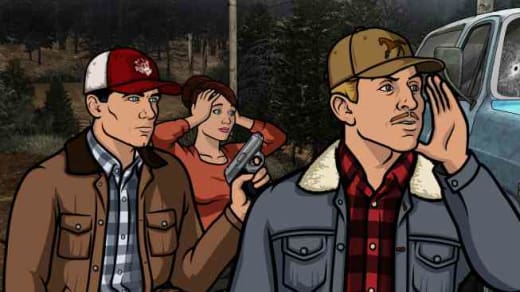 This week's opening of "Bloody Ferlin," with Archer and Lana investigating the break-in of the ISIS armory, definitely caught be by surprise. A good surprise. 
I might be the only person happier than Archer and Lana to have our man back in the field. As great as the handicap-able jokes have been this season, I can't help but feel like there was nowhere to go but down after the undercover shopping cart. And yet this week proved there's still plenty of room for great material with Ray in the field.
Unfortunately, that will probably mean a demotion for our poor man Cyril, back to hanging out with the ISIS goons at base. Well, buddy, at least you'll always have "El Contador."
As much as season two seemed to be the season of character backstories, it was nice to see a return of that in season three, as we literally went back in time to the shittier parts of Chernobyl to see where Ray came from.
The episode still managed to continue the season's trend of impressive guest stars, too, grabbing Jack Bryer to play Ray's brother. 
Now this is going to sound strange - as I watch him as a naive guy from the backward south every week on 30 Rock - but there was just something that didn't work for me with Bryer's voice as a homophobic, wife-swapping, drug-dealing-farming hick from West Virginia. He was far from terrible, but it was just distracting for me.
Unlike Ray's non-paralysis, I unfortunately saw our little twist ending coming. I don't care how menacing E.Z. looked, Randy's wife-swapping ways made me question his honesty since the get go. Okay, well maybe I didn't forecast E.Z.'s love of the capezios.
Luckily, the gang left Lana behind because I'm pretty sure sole competent agent would have seen the trick coming. 
Speaking of back at home, our side plot of the goons attempting to investigate the "break-in" was a little on the weak side. I mean, I'd lay down some serious cash to watch Pam battle in the shocking bum fights, but we've seen stronger ISIS subplots.
All in all, it was a pretty solid episode that reminded me of the stronger season last year brought us. Plus, heck, it got us Ray back. Now to leave you with some random thoughts, mostly my rehashing of Archer lines:
White Lightning! Glad to see Archer didn't run out of Burt Reynolds references after "The Man from Jupiter"
"I'm coming out." It's been awhile since we've had a good phrasing joke.
RIP Dan Lather. Seriously, anyone else want to go in on a chicken shaving cream patent with me?
Damn you Mr. Gilette, I could have gone for some pages out of the diary with Ms. Piggy on it.
Who knew Pam was such a talented graffiti artist!?  If bum shock fights and HR don't work out, she's got a great backup career.
Eric Hochberger is the programmer of TV Fanatic, so please forgive his mediocre writing. His programming is far better. Follow him on Twitter and/or email him. Just don't request threaded comments. They're coming.