Unfortunately every generation seems to have a question about where they were when one event changed the way we all view the world. For my parent's generation it was where were you when Kennedy was shot?  For my generation it's where were you on 9/11?
Frank Reagan and his partner John McKenna were in the North Tower saving lives when the South Tower fell because it was "The Job"  I couldn't even imagine the terror that was felt in that moment or the incredible courage of the first responders who continued get people out.
But Frank was haunted by the events of that day but also by the aftermath. By his partner who fell ill. They never specified exactly what John died from except to say that it was complications brought on by breathing the air at ground zero. Which left Frank asking, why him and not me?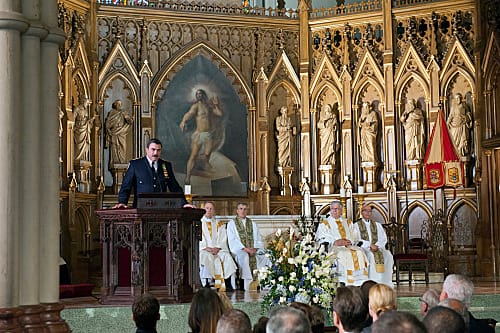 Unfortunately, it's the unanswerable question and even though Frank realized that, it still kept him up at night. His insomnia so bad he sought help from a therapist. Somehow I think this strong man even saw that as a weakness. He wouldn't even allow himself the luxury of a sleep medication as he told the therapist that Reagan's don't take drugs. Those are some pretty high standards.
Blue Bloods was the first TV drama allowed to film at the 9/11 memorial. I was at ground zero days after 9/11. I haven't yet been to the memorial but the quiet enormity of what was shown has me wanting to visit.
The parallel story of the episode was Danny's. When a gunman approached the man Danny had hit with his car, Danny opened fire and seemed convinced he was in the right. 
I'm not a cop and don't know proper procedure but it seemed reckless for Danny to shoot at a man who he knew would likely shoot back when Danny's wife and kids were directly behind him. I understood Linda's terror and fury.
On the flip side I agreed with Danny when it came to showing Jack his gun. Jack needed a way to process what had happened to them. Knowing that his father uses a gun at work and seeing it are two very different things. 
Danny wasn't playing, he was teaching and although that gun should always be locked away a curious child can be a dangerous thing. Far better for Danny to teach his son what he needs to know than have him go searching for answers on his own.
The scene I had the most trouble with was when Danny presented Linda with his badge and told her he'd quit if that's what she wanted.
In that moment, maybe Danny really meant that but being a cop isn't Danny's job, it's his identity. If Linda ever asked him to quit I don't know that their marriage would survive.
In the end the entire family banded together for John's funeral. Frank's speech was moving. He reiterated the importance of the living honoring those who didn't survive, no matter when they died. Some people and events have ripple effects that for better or worse, just won't end.


C. Orlando is a TV Fanatic Staff Writer. Follow her on Twitter.