The CW has whet our anxious appetite even more for the upcoming Damon Salvatore flashback episode.
As previously reported, The Vampire Diaries will shed more light than ever before on this character during the March 15 installment - and now TV Guide has published the first photo from the highly-anticipated outing, which will feature Cassidy Freeman as a vampire named Sage, as seen here: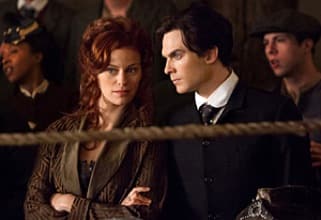 "She [is] really aware of what being a vampire is and owns it," the former Smallville star tells the magazine.
Look for Sage to also pop up in the modern day Mystic Falls, with Freeman teasing her character's motivation as centering around "good reasons," but adding: "She is [out] for herself."
We can't wait to learn more, but we'll have to be content with this image for now and with this Thursday's new episode. Check out the official promo now for "All My Children."