For the most part, I felt that "Get Out of My Life" was a snooze fest. I couldn't keep from yawning at the tired old storylines and even absurd moments. This all changed in the very final minutes of the installment, though.
We found out that Orson was the culprit who sent Bree the unexplained and very familiar mysterious notes. It was also revealed that he has been following her since last summer and was lurking nearby on the night of the dinner party and was even there in the woods on that unforgettable night. He knows... everything!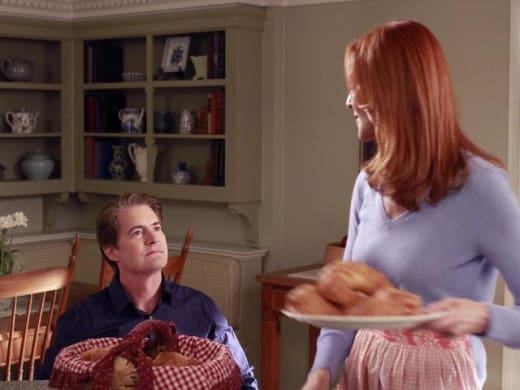 In many ways, Desperate Housewives reminds me so much of Pretty Little Liars. Thankfully, though, the writers of DH don't keep us waiting forever for such major secrets to unravel. I actually love the huge reveal that it was Orson all along and the viewers are in the know, while the residents of Wisteria Lane remain in the dark. What about you? Are you satisfied with Orson as the creepy culprit?
While we did get a major answer to one of our many questions, we are still left to wonder what's going to happen in Maine. Also, what is Orson's ultimate plan, as he continues to spin his web of lies and keep Bree from her friends?
Elsewhere: Mrs. McCluskey, who is the frontrunner in the Desperate Housewives death pool, found out that her battle with cancer is still raging. I'm thinking that this storyline will be what brings all of the ladies back together again. Hopefully, they'll be able to unite and figure out the reasoning behind Orson's devious games because I'm dying to know if it's really all just out of love for Bree. 
All of the other storylines felt like filler to me. In fact, it was hard to care when Ben was having chest pains and ended up in the hospital. We hardly know him and rarely see him as is. As expected, Renee paid off Ben's debt for him, but I'm betting that Ben's financial woes are far from over.
Meanwhile, I got that Lynette was enjoying her freedom, but found it hard to believe that she really didn't want the twins back at the house. It just felt so out of character for her, and I couldn't believe she was seriously that crushed that her kids needed to move back home.
Who didn't guess that Susan would try to meddle and find out who the father of Julie's baby was? Then again, who guessed that Porter was the father?!? I can honestly say that I didn't see that one coming. I thought it was rather predictable, though, for Lynette to accept the idea of Julie wanting to give the baby up for adoption while Susan wanted her to keep the child. With Porter fighting to raise the baby on his own and with Susan's support, I could see why Julie was so upset with her mother.
Of course, Gaby continued to struggle with being a mom and helping out at the office while Carlos was still in rehab. As she selfishly kept Roy from making up with Mrs. McCluskey, I couldn't help but wonder how she would feel once she finds out how about Mrs. McCluskey's health. Sure, Gaby was just being Gaby and couldn't possibly have any idea, but you'd think that she would be able to take care of her kids on her own by now.
So, what did you think of "Get Out of My Life"? Were you surprised by the huge reveals tonight about Orson? Will Julie change her mind about her pregnancy? Who else would you like to see visit Wisteria Lane one last time?