Before we open the floor up to the one and only Timothy Omundson, allow us to remind Psych fans: Our season 6.5 giveaway ends tomorrow morning! Enter to win a show prize pack now!
That announced, read on for our exclusive chat with this Psych star, as he previews his favorite episode to come and tells us why he's so in love with Zooey Deschanel...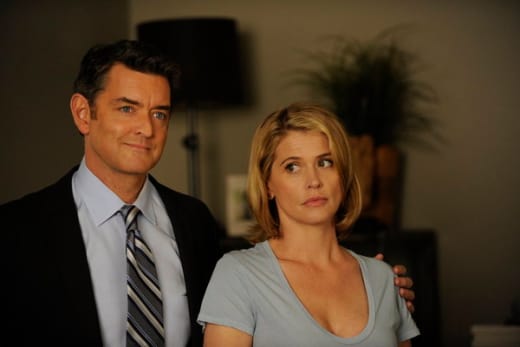 What can we look forward to in season 6.5 both for your character and the show?
There's Indiana Shawn and the Kingdom of the Rusty, Kinda Crappy Old Dagger to start off our brand spanking new episodes. Despereaux is damn charming [in it] and... is saucy. I am so jealous I never get to work with Cary Elwes, except for when I got to arrest him way back in the first one.
My personal favorite that I think airs March 7 is the one that includes my character's name: "Heeere's Lassie!"  Lassiter gets a new apartment and it gives him some issues. It's very much a love letter to The Shining. I think The Shining is scariest movie of all-time. It scared the crap out of me.
Marlowe returns in "Let's Do-Wop it Again." It's funny because Lassiter visits her in prison and is trying to get his groove on with his lady, which is hard, because she's in prison. As much fun as it is to watch Lassiter fall apart, it just as fun to watch him fall in love... [Kristy Swanson] came to play like no actress we've had. She was fearless and we have a lot of fun! Cheech Merin, Jay Chandrasekar guest star again! That's a win-win, win-win for me. Four epic things taking place at once.
What was it like to play crazy on "Heeere's Lassie?"
To play a character unraveling was delicious, so much fun to shoot. That one, for me, was a carnival at a circus on a cruise ship on a rocket ship... whatever that means. That's just what it felt like for me.
James directed. We know each other so well, he makes me laugh. I trust him and his sense of humor. Todd Harthan wrote the script, you'll see a pattern that James and Todd team up a lot. Sara Rue just kills it from first scene on! Dule Hill does a Shelly Duvall, he's like jello that's just not solid and it's great.
If there was one thing, one storyline or action, you could see Carlton take part in, what would it be?
If there was one thing I would like the writers to do, it would be to let Carlton come in to the station with six months worth of facial hair because that's what I want to do. But the way the season finales work out, it's like we come back the next day and Carlton doesn't realistically have time to grow one. More feasible, I'd like to see a case where Lassiter has to be nice to children and doesn't want to kill them. I think that might be nice.
What are you watching or what shows are you waiting for to come back?
Mad Men. It's my absolute favorite! Old seasons of Rome was my latest kick, even after it was off the air. Just watched the premiere of Eastbound and Down.  I watch shows all across the board: serious, funny, stupid. I really like New Girl, Zooey Dechanel so damn cute. We also talk lot of reality on set, American Idol, The Voice, I just got into that recently.
Psych returns with the start of Season 6.5 tomorrow night. Visit TV Fanatic for a complete reviw as soon as the premiere concludes.
C. Charles is a TV Fanatic Staff Writer. Follow her on Twitter.