House of Lies Review: Conscientious Objector

Chris O'Hara at .
This week on House of Lies, Marty succeeded in staying faithful to April while on the road, but his commitment to reaching "Bareback Town" may have sealed his fate at Galweather and might cost him Roscoe.
Just as it looked like there wasn't any line Jeannie would not cross for Marty or the job, her conscience got the better of her. The adverse results she brought up, of the drug Brenda was trying to push, ended up coming into play despite Marty's initial dismissal - and, in the end, forced Marty to make a serious game time decision to throw Brenda under the bus in order to capture his coveted yearly billable target.
The decision looked to be bittersweet as Brenda showed her claws outside the bedroom and vowed to take Marty down by costing his firm a 10 million dollar account. Jeannie however, showed once again why she is the most valuable player Marty has on his team.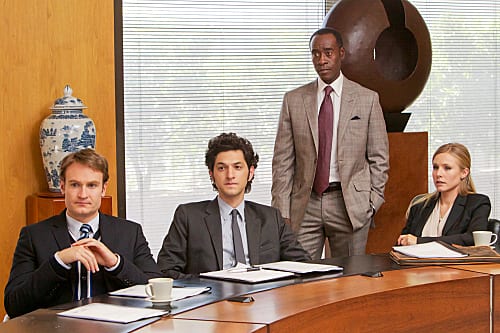 Marty succeeded in reaching Bareback Town but he better hold on to those condoms because he is going to get royally screwed when the news of what went down in Maryland gets back to his bosses. April may appear to be a good influence on Marty, but so far she has only caused him trouble. She has gotten him to deviate from his normal routine, which in the case of not sleeping with Monica may come back to haunt him as she appeared very determined to gain custody of Roscoe just to spite her ex-husband.
While I don't see this happening, given the background we've been shown on her, a custody hearing will be anything but good for Marty, who already has a lot on his plate with the merger. 
Speaking of which, I liked how - in addition to their usual banter - we saw some more serious moments between Clyde and Doug. The uncertainty of their future was weighing hard on Clyde in particular, who at this point seemed to be the weakest of Marty's three assistants, despite having the silver tongue and quantitative know how that is so valued in their business. 
We didn't get any more on Marty's relationship with his mother, but finding out that his father is sick is surely going to strike a serious blow to his already fragile psyche. While the trip to Maryland was overall a failure for the Pod, from the standpoint of the show it was a success, adding some nice layers to a plot that has been criticized by some as being too thin.