On House of Lies this week, Marty tried to show us what a business consultant does with the little free time he is allowed - but what we soon learned as "Our Descent Into Los Angeles" progressed was that whether in the office or not, Marty is always on the clock. In the words of our compelling consultant, allow me to try and unpack it for you.
Let's start with Jeannie. While we saw she sports a backside off of which can bounce a quarter, inside she's a conflicted mess and not nearly as emotionally hardened as she projects. These traits, though, are why she most resembles Marty... for better or for worse. Her fiance was right to call her out for rushing to Marty's side instead of playing politics at work. If anyone is capable to run the team other than Marty, it's Jeannie, as Greg pointed out in his praise for her actions in Utah the week before.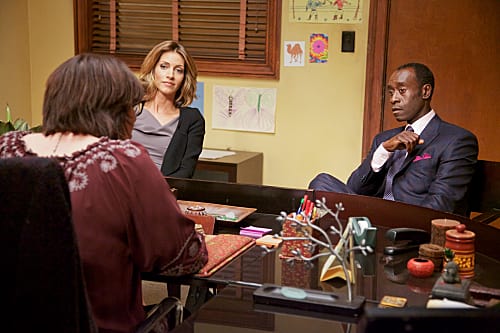 Switching to Greg, if he had designs on wooing Marty's would-be replacement, he is doomed to be rejected by yet another beautiful blonde. However, if his borderline office place harassment was instead an attempt to plant some seeds of dissent in Marty's garden of greed, he may have found the right soil to till. 
While Clyde and Doug certainly possess their own strengths, Jeannie has proven to have the ear of Marty the most, but was also not afraid to tell him no when it came to working on the weekend. Sir Clyde of the North is a gem of a character, however, and I hope to see some more screen time for him and his very entertaining drollery. 
Marty did little to further his chances of making his claim to Jeannie that they will eventually sleep together come to fruition, but luckily he had April to Lewinsky his love muscle in the meantime. The suicide by GHB defense he offered up to her was pretty good for such short notice, but this murder case April is facing is not going to open and shut as easily as the gull-wing doors on Marty's Mercedes. It remains to be seen if the return of Megalyn Echikunwoke's character will be good or bad for Mr. Kaan, but her deadly good looks were certainly one this week's pluses. 
While we were spared another procedural episode featuring Marty and his team wrapping up a firm's problems in the show's half hour time slot, the apparent resolution to Roscoe's school yard drama was anything but finished, despite the smile Marty flashed in Gita's office. We were treated to what was the most intense moment of the season when Marty all but exploded as he was once again confronted with the story of his mother's suicide. When Monica asked Marty to share what his mother used to always say to him when he was young, the walls seemed as if they were going to cave in on the normally collected Kaan.
This storyline definitely has legs, I just hope we aren't left in the dark too long. Just as seeing the duality in Jeannie's life has proven to add depth and interest to her character, I think the more we learn about what it is that is eating up Marty inside, the more we will come to love him.