Jane By Design Review: Everyone Loves Nachos

Carla Day at .
For those of you that have been wanting the guys to get more screen time, "The Wedding Dress" was your episode. Lots of Billy, Nick and Jeremy to go around!
Even though Billy was meeting up with Nick because Jane asked him to (does he ever tell her "no?"), it was a blast to see him away from her. We have witnessed him interact with Lulu, his brother, and even Ben, but always in limited ways.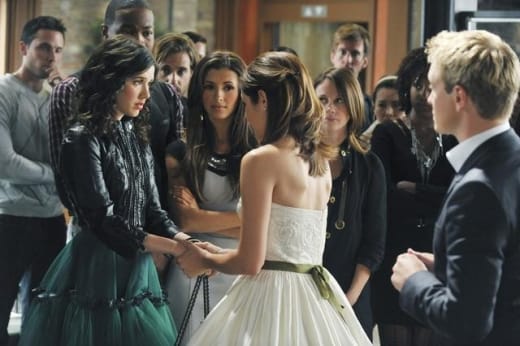 Billy and Nick on the surface are from different worlds, but Nick's mention that Billy doesn't know the whole story leads me to wonder, what is Nick's story? Of all people, Billy should know that the the outside appearance isn't the person. Didn't he learn anything from his "transformation." That mystery is for another day.
It was entertaining to watch the wall between them and the awkwardness disappear as they got to know each other better. The Adams as a common enemy was good for forcing them to bond as well. They both realized they care about Jane and that was enough for them to be friendly.
Jane's responsibility at her "internship" caused her to stand up Nick ... again! At least she was able to make the baseball game and all seemed forgiven. Nick's adventure with Billy probably helped him overlook it. At some point, she is either going to have to let Nick in on the secret or she will lose him.
At work, Jane got herself in yet another a mess. Seriously. Can she have a day go by that we see that goes exceedingly well? Please! I beg the writers. Make it happen! As soon as she walked in the office, it was bound to be bad. I despise that Jane is made to be so naive. But it did create a good story.
I'm not sure how likely it would be for a high school student with minimal design training to create such a beautiful dress. She did have the inspiration of her mother's dress to work with, though, so it made some sense.
India never learns, does she? Luckily for Jane she had the picture to support her claim that she designed the dress. But, really, Jeremy isn't naive. He knows India. How could he not believe Jane as soon as he saw the look in her eyes at seeing her dress? She was in utter awe when she first saw her paper design on a dress form. That was real.
The dress was a success. It was a beautiful dress and exactly what Charlotte Whitmore wanted for her special day.
What's up with Jane and her men? She worked very well with Jeremy and they looked amazing together all dressed up. If the show gets picked up for a second season, I'd love for her to move from Gray's assistant to working side-by-side with Jeremy on the design team. I just don't see them as a romantic pairing as some of you do.
Jane and Billy continue to be best friends and I hope he works things out with Lulu for now. As I've said before, now is not the right time for them to get together.
And, lastly, Jane and Nick. That kiss at the end was precious. How cute was it that it hurt his broken lip, but he went for another smooch anyway. I'm definitely all about Jane and Nick right now!
Carla Day is a staff writer for TV Fanatic. Follow her on Twitter and on Google+.