Finally! An SVU episode with both exciting drama and captivating romance.
"Hunting Ground" was a great outing with plenty of suspense. Unlike others this season, the search for the serial killer focused less on plot twists and more on the detective work. Watching the team work together to uncover the identity of a dangerous killer was way more entertaining than the predictable and convoluted plots of previous installments.
I always feel the show is at its best when each of the detectives brings their own angle to the investigation; although Benson and Amaro seemed to take the lead on the case, each of the detectives spent some time unraveling the mystery. Even Munch used his liberal politics to try and reason with the editor of the Downtown Voice, despite his protests about the possible violation of the paper's civil liberties.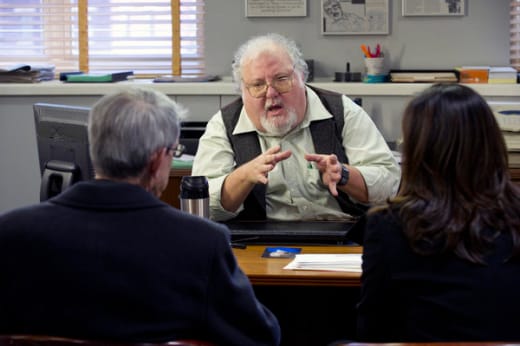 But I think what I enjoyed most in this episode was watching the budding romance between David and Olivia. After agreeing to take it slow, the two enjoyed a movie date; however, they aren't too keen to share their romance with their coworkers yet, so they went to see a film they don't think anyone they work with would enjoy: The Artist. It was smart of them to see if things were going to work out before involving their bosses and making a clear professional divide, but I think their relationship might be affecting their work already.
Despite the fact that David is cool-headed and logical about their relationship, it's clear that he really wants something serious with Olivia. "I'm not going anywhere," he says. But, is that true? Harry Connick Jr. was only signed-on for four episodes and next week's promos indicate some problems for the pair. Will they split up so soon?
I would hate to see them call off their relationship so quickly because they seem to be working on a really healthy one. Benson has some really bad habits when it comes to friends and families. She's stubbornly loyal, which is a good thing in the right circumstances and a very bad trait in others. On top of that, she doesn't mind calling in a few favors now and then. Her unfailing loyalty means that she expects the same behavior from those around her, even if it's not the right thing to do.
We could already see her start to use her relationship with David to get him on her side for this case. It's really destructive and it could damage their relationship, especially at this early stage.
Luckily David didn't agree with her plan to attack the newspaper for its advertising and he didn't let himself be pressured into taking up her cause. He responded reasonably to her concerns and managed to keep their personal life out of their work without hurting her feelings. David definitely seems mature enough to have a strong and lasting relationship with Olivia.
Do you think they have a future together?
David eventually caved on the issue of the Downtown Voice, but only because the magnitude of the killer's crimes made Olivia's point much more compelling. Or did it? Is David breaking his own rules for Benson and will he make this a habit?