Dan Scott's road to redemption may have started a while ago, but it became much more obvious during "Catastrophe and the Cure" that it may indeed be the main overarching theme to One Tree Hill.
Sometimes it's thought provoking to take a step back and look at an entire series, figuring out what it really was all about. The events that occur - whether it be pointlessly written storylines, or actors leaving the show - can change the path of the show, but at the end of the day a story is being told.
Over the course of nine seasons of One Tree Hill, that story may end up being about a man making a number of awful decisions on his way to rock bottom, and then finally finding redemption. Whether his family - and the audience, for that matter - accepts said redemption, after all of the heinous crimes he committed, is exactly the kind of grey area that would make the ending to this story so interesting.
If viewers still can't stand Dan Scott - as I know many cannot - and aren't willing to forgive the man for the many awful things he has done over the years, then this might be a more difficult pill to swallow. I, on the other hand, believe this character has paid his dues and is ready to redeem himself for many of his wrong doings.
While it is certainly thanks to the great writing, so much credit has to go to Paul Johansson for portraying such a terrible human being... who can also be so very sympathetic at the same time.
I mean, come on! When he finished his Nathan search for the night and dropped Julian off at Karen's Cafe, demanding he go inside to hug and kiss his wife and kids, there is no way it wasn't time to admit that this man has changed. Dan Scott doesn't have the right to hug his wife or his kids anymore, and he doesn't want anyone else to lose out on that joy.
All of the characters we have loved in the past, or currently love to watch on this show, have been negatively affected by Dan Scott. It's now his time to help them all to be better people in the face of all the turmoil he has put them through.
Lost in the shuffle here during this Scott Free Redemption is the fact that Nathan has been found! He was discovered by the audience, but not by any characters on the show. I have to admit I was pretty disappointed by the reason for his kidnapping: Eastern European criminals angry about Nathan signing one of their basketball players? While not unreasonable, it would have been much more interesting if it related to something in Tree Hill.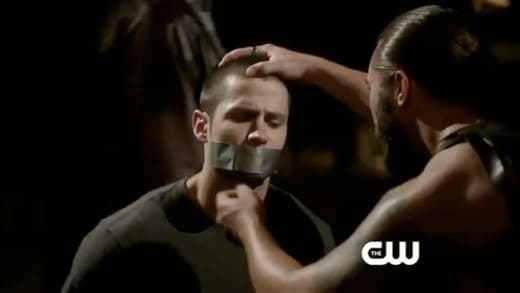 Thankfully, Nathan was able to convince the hired hit men to hold him for ransom instead of simply killing him when the phone rang, like they were originally told. Was that now dead hired gun extremely difficult to understand for anyone else? I had to rewind my DVR three times to hear "Phone rings. He dies."
With Nathan all tied up for the time being, and Haley spending most of her time worrying about her hubby, I wouldn't expect to see the original OTH couple very high in this week's One Tree Hill Relationship Rankings. Let's take a look...
1. Brulian
Thanks to Dan Scott, these two finally got to enjoy themselves at the end of the episode with their cute little babies. It was fun watching Julian help Dan en route to realizing how good he had it, and it was also a lot of fun to see Brooke get back in the game by hiring Chris Keller to sell out her cafe. 
2. Clinn
What? Could this be for real? Clinn at #2? While Quinn didn't have much to do, I did enjoy the fact that she stood up for Dan. Clay, on the other hand, had a lot of screen time with his new best bud Logan. The dude might go off on crazy fugue episodes, but Clay is at his absolute best with this little kid. They have a great chemistry, which was exemplified by their X-Men session.
3. Naley
Nathan being tied up, and Haley worrying about him, wasn't really all that great. Their expected reunion, though, that should be fireworks.
4. Millimouth
Did anyone think Mouth was going to open that box of pizza?
-------------------
They're not a couple so I had to leave them off the list, but Chris Keller and Chase were quite the dynamic duo in "Catastrophe and the Cure." Even the fact that the latter slept with the former's girl on a couple of occasions couldn't impede this blossoming friendship.
Whether it was Chris Keller first admitting that Chase is a good dude, him apologizing for pushing Alex on tour and standing up Chuck, or everything about his performance at Karen's Cafe, these two were a lot of fun this week. Chris Keller declared Chase as his best friend, then kicked him in the no-no spot, and finally took him to the strip club to help him recover from Tara's indiscretions. He's a class act that Chris Keller.
We are almost half way through the final season of One Tree Hill. What does everyone think of the run so far? Are they doing the series justice on its last leg? Was tonight's installment one of your favorites yet?
Do you want to see Dan Scott get his redemption? And will you forgive him once he does? How is Nathan going to escape the Russians? And who tops your Relationship Rankings this week? Read our latest set of One Tree Hill quotes and sound off!

Dan Forcella is a TV Fanatic Staff Writer. Follow him on Twitter.