Ringing in "1964" together was the beginning of a new chapter in the lives of our Pan Am crew, one we may never get to see. But if we use our imaginations, we can make dreams come true.
Ted and Laura and What May Never Be
I love how Ted tried to compare his impending marriage to that of Jack and Jackie Kennedy to try to make himself feel better. Well, theirs wasn't a conventional marriage, so surely he can have a union with pre-approved infidelity.
His warning system needed to start clanging a little louder. When he looked at Laura after talking about the perfect woman, it wasn't difficult to see the admiration in his eyes.
Amanda turned out to be a bigger idiot than I thought. She had the gall to ask Laura to be Ted's mistress. She was so caught up in what is right in the eyes of society she couldn't see what she was asking was something of which society most definitely did not approve. When Ted called off the wedding and told Laura he was in love with her, I should have known better than to expect a happy ending.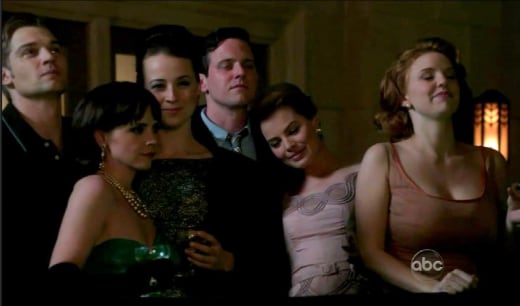 Amanda told Ted she was pregnant. I don't believe her. Will he be savvy enough to find out for himself prior to marrying her? Or will she use him, fake a pregnancy and miscarry so he is trapped with a lesbian for a wife, one who seems not to understand the marriage will make them both as miserable as she thinks her own life is destined to be? She should really have more confidence in herself than to put them both through such torture.
Kate the Wonder Spy
When Richard was shot, it was most likely someone on the inside. Whoever asks about him will be outed as the double agent. Kate gets in the most sticky spots in this spy world of hers. Since the only other agent we know is Anderson, it wasn't hard to make the leap that he would be the double agent. Or Richard himself. It is a spy world, after all. Either way, she was played by someone. She kicked ass and brought down Anderson with very little assistance. I was so proud!
Richard made Kate an offer that will surely cause her a lot of deep thought. The CIA wants to make her a real agent. Training at Langley, leaving Pan Am. While she loves flying, she will be going around the world with the CIA regardless.
Colette Got More Than She Bargained For
Omar was literally sweeping Colette off of her feet. When Dean hurt her, she was there for the sweeping. Unfortunately for him, he felt she was the perfect woman for him. But, honestly, if someone was flying in my favorite chef from Paris, offering me an entire wing in their palace and an unlimited clothing allowance? It would be hard to not be in the least bit intrigued.
The background check conducted by Omar provided so many surprises for Colette. Her life has been a lie. Her parents were Jewish and died in Dachau. Somehow, in such a short period, they even dug up a family photo, proving she had a younger brother who survived.
It ended her courtship with Omar, but opened up the possibility of finding her family It could be a soulful journey of love for her to spend time at every destination searching for her sibling, especially with Dean promising to help for six months.
Who Has Maggie Become?
Maggie's involvement with Broyles smuggling ring was like something out of a comic book. I don't know why she got caught up with him in the first place, and he's such a stooge. She's sharing an apartment with Laura, who was hanging out with the likes of Andy Warhol. When we first met Maggie, I imagined that might be her crowd. Maggie made a lot of changes this season, but she hardly found her footing as of yet. Will we get the chance to see where she lands?
We Say Goodbye to 1963
The ending, watching the ball drop to ring in 1964, brought tears to my eyes. Dean, Colette, Maggie, Laura, Kate and Ted all watched as the ball dropped in New York City. The odds are that is the last we will ever see of these characters I have grown to love. Another great character study with a small chance of survival. I hope it receives a reprieve from execution, and that we can all continue our discussions sometime down the road.
In the meantime, buckle up, adventure calls!
Carissa Pavlica is the managing editor and a staff writer and critic for TV Fanatic. She's a member of the Critic's Choice Association, enjoys mentoring writers, conversing with cats, and passionately discussing the nuances of television and film with anyone who will listen. Follow her on Twitter and email her here at TV Fanatic.