Supernatural Review: Dean, You Are The Father

Sean McKenna at .
It's interesting that "The Slice Girls" pulled a role reversal on a similar situation that took place during "The Girl Next Door."
Rather than Dean making the decision to kill a "monster" that was emotionally close to Sam, it was Sam who was forced to shoot Dean's rapidly aging daughter and prevent her from killing anyone. Granted, Sam didn't go behind his brother's back to commit the act and it was seemingly done to save his brother, but I was certainly surprised that Sam didn't give her a chance.
In fact, I was really curious as to how the episode was going to tie everything up because I knew that the following episodes wouldn't be about Sam, Dean, and Dean's daughter. The particularly dramatic proposition for the Winchester brother would have to be solved meaning she would either be killed off, sent away, or was really never his kid in the first place.
Short of actually visiting Maury Povich for a paternity test, I think it was fair to assume that Emma was his kid.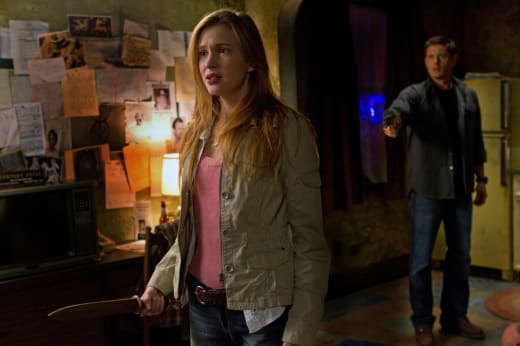 And as much as Dean claimed he wouldn't have let her go, I find it hard to believe that Dean, who has become a natural at dealing with kids, would choose to shoot his own daughter even if he'd only known her for a few hours. I guess that was the point in putting the shoe on the other foot to reveal just how hard it is to take a life when there is an emotional attachment.
But why make that personal connection his daughter? Isn't that more of a difficult choice because she's of his bloodline and not simply some girl that he fell in love with? And because she's now dead, is the fact that Dean became a father going to be swept away and never discussed again?
I guess if anything, it's clear to see that Sam and Dean are traveling on a difficult road expounded upon the fact that two of their closest friends were recently killed. Hunting monsters for a living is certainly going to take its toll at some point.
Although Sam and Dean aren't in the same place emotionally or mentally as they were in the early seasons, season 7 has done a nice job of bringing back the focus on the monster of the week stories. It's allowed for that classic feel, but at the same time shown just how much its effected them and changed them. Most important of all is the fact that they are still pushing strong even with each of them seemingly unraveling at their respective seams.
At least the brothers have each other to help keep them going with that smile on their face for each day they get to keep living.
I loved that the episode brought back some classic rock and utilized AC/DC, especially for Dean's hook up scene. It's felt like a long time since the show used music other then during the "previously on" segments. Of course, the music synced perfectly with another classic element of Dean getting busy with the ladies. Yes, hot and steamy was his rowdy night and even that particular aspect of his character had been on hold for a while. Dean has still got the moves.
Even the banter between the brothers was top notch from making cracks about the professor to commenting about talking babies. Jensen Ackles and Jared Padalecki play off each other so well whether it's playful wit to their arguments about dealing with death that they really do act like brothers.
Yet, what was up with Dean thinking that his papers moved? It can't really be Bobby as a ghost, can it?
The idea is an intriguing aspect, especially with Sam discussing it could be that Dean simply wants it to be Bobby. After all, Sam said they burned his bones. But then what is causing stuff like that to happen? It has to be more than just a part of Dean attempting to deal with Bobby's death. Is there something more?
Overall, the episode managed to combine a majority of the features that make for an entertaining hour of Supernatural from the mysterious legends, the gruesome killings, the humor, and the brotherly situations. Now if only the show could make the Leviathan a bit more interesting, a bit more scary, and oh, yes, a bit more recurrent on screen. Let's just hope that the closer we get to the season finale, everything will come together nicely.
What did you think of the episode? Should Sam have killed Emma? Should Dean? Will the brothers reach a breaking point?
Sean McKenna was a TV Fanatic Staff Writer. He retired in May of 2017. Follow him on Twitter.