So long, Will Gardner?
Not really, of course, we'll be seeing plenty of this character on the weeks ahead. But The Good Wife aired a significant episode on Sunday, one that changed the life of both firm partners. Below, Round Table correspondents Matt Richenthal, Carissa Pavlica and Christine Orlando take on "Live from Damascus."
-------------------------------------------
What was your favorite scene from the episode?
Matt: I can narrow it down to an exact moment: Eli's face upon Stacie saying she could still taste him. He was clearly repulsed, but we all know he was also turned on. And probably a bit confused.
Carissa: The opening scene when Cary called Will. I thought the way Cary delivered the message knowing it was right, and yet knowing Will wasn't off the hook, was very well acted. Plus, I have a crush on Matt Czuchry.
Christine: I don't think I had a favorite scene this week. Will's story lacked the dramatic punch I expected. Stacy and Eli's ex irritated me so much that I didn't enjoy his story at all. Even the judge I normally like was annoying. I didn't hate the episode it but there wasn't anything I loved about it either.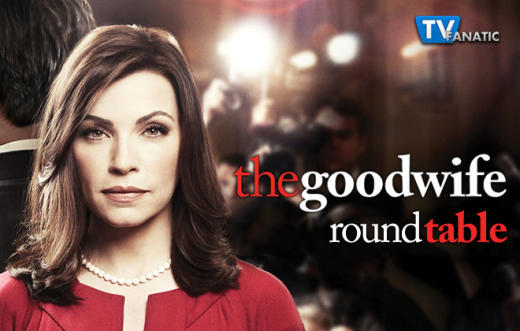 Did Will make the right choice in accepting his suspension?
Matt: I guess. My problem is how little we know about the crime. Is there evidence he took the money? That he put it back? For such a major issue, the show expects us to just go along with what we've been told about something that happened 15 years ago. I wish we'd been given more.
Carissa: Yes. At some point you just have to stop fighting against someone who won't ever let it go. Wendy Scott-Carr clearly wouldn't let it go.
Christine: Absolutely.  Like he said, he was guilty.  He could pay with six months or risk paying with his entire career.
Would you vote for a candidate who used a lot of green in his or her campaign?
Matt: Yech, no way! I'm offended you even asked the question.
Carissa: Green is my favorite color, but also one of my least favorite causes, so I'd be torn between the color green and the "cause" green. But the color would catch my eye. Add a little bit of purple flair and I'm in for life.
Christine: Can you really blame a color choice for losing an election? I did like when Eli said that sometime being "on the nose" was a good thing. Sometimes you can really over think something that's very silly.
Grade this week's case.
Matt: D. What can I say? I was bored and felt it was too blatant of an attempt by The Good Wife to capture a current event and remind viewers of how hip it can be.
Carissa: C. Which isn't based on the case itself, but my overwhelming dislike of Rita Wilson's character. She is cringe-worthy and one note and any case she is involved with will always get a poor grade from me.
Christine: C. The drama of the Syrian case was lacking because we barely met those characters. I prefer seeing Kalinda interact with actual people and not a video screen.
Matt Richenthal is the Editor in Chief of TV Fanatic. Follow him on Twitter and on Google+.