"A Better Man" delivered a lot of insight into Emmet Cole, how he felt about his son, what he wished for himself and his family and just how difficult he found things on the Amazon without them.
Indeed, The River is really a story about a man and the son he left behind, who is learning about the father he never knew through very perilous circumstances.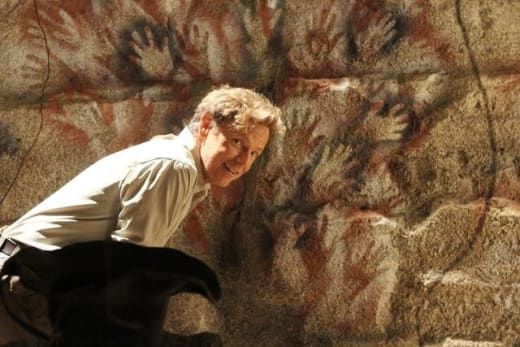 As soon as Lena picked up the accordion and starting singing a folk song with Lincoln while he strummed guitar, I knew either something was going jump out of the jungle or I was going to jump on in there myself and put a stop to that nonsense. Good gracious. Have some taste, people. What's next? Puff the Magic Dragon? That's when Emmet's camera man, Jonas, saved us all when he showed up hanging by the neck from Tarzan ropes by the river.
Found with an advanced case of malaria, Kurt suggested quinine from the Sequoia tree. I had no idea my tasty gin and tonic was due to the great Sequoia! Quinine treats malaria, lupus, muscle spasms. Between that and red wine, no wonder I'm so healthy. But I digress.
I really enjoyed the increased amount of footage of Emmet this week. While a lot of you may dislike the found footage feel of The River, I want to know as much about Emmet Cole as I can, and to see as much of Bruce Greenwood as possible, so I'm all over the historical video sequences.
Bringing Jonas on board the Magus presented the crew with a myriad of new problems, including a shower of dead birds. The all-powerful all-knowing Jahel once again calls it. Jonas is being followed by El Colgado, the hanging man (it's even a Tarot card, that Lincoln picks every time in reference to Jonas). With him on board, they will all die. Seriously, there are no books on this boat that I have seen; where in the heck has she learned all of this? Surely not the Internet.
When Lincoln and Jonas have a heart-to-heart, Jonas admits Lincoln doesn't want to know what he knows. He could lie and tell him what he wants to hear, but to tell him the truth would do more harm than good. Once Lucas lies to Tess in the same manner, they are accosted by a swarm of locusts. The grossest moment was when Lincoln smacked on one of the bugs and it squished on the wall. Yes, I grew up with locusts and there is nothing worse than the sound of a crunching giant bug. Eeeek.
When Jonas decided to steal a soul by filming the death of a dignified man, he was plagued by death. He will be forced to suffer death over and over but never experience it as punishment for what his arrogance. I've never thought about the sacred moment of death, but in this time of paparazzi and trying to get the best shot, I hope a lot of them were watching what could one day become their fate.
We learned that Emmet was anything but proud of the choices he made in light of Jonas' work, how he treated him and that he feared the man he might have become without his family at his side. Through Lincoln's entirely different choices we know that Emmet was and is a good man, on a wayward path. Certainly worthy of redemption, because a son like Lincoln doesn't come from any other type of father.
Carissa Pavlica is the managing editor and a staff writer for TV Fanatic. She's a member of the Broadcast Television Journalists Association (BTJA), enjoys mentoring writers, wine, and passionately discussing the nuances of television. Follow her on Twitter and email her here at TV Fanatic.