We were all in agreement after last week's Two and a Half Men episode: the sitcom really needed to step up its game.
So, did the "The War Against Gingivitis" accomplish that task?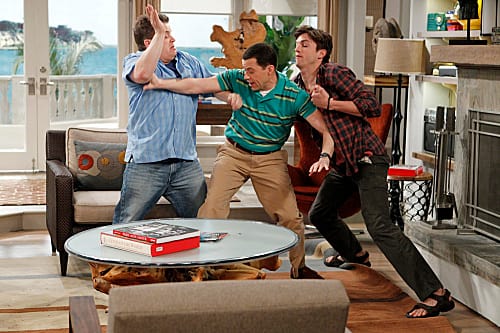 Guest star Patton Oswalt was at least a step in the right, humorous direction. I've been a fan of him since King of Queens and he was great on United States of Tara. The comedian certainly made this episode a whole lot better and bearable.
Still... this was merely mediocre. Oswalt playing Walden's ex-partner, Billy Stanhope, was a perfect set-up, true. He and the rest of the cast seem to gel. His YouTube video was very funny and he delivered some great lines. We were also treated to a little bit of character development, as we received a little history of what went down between Billy and Walden and why they split up.
We saw Alan needing a friend and Walden regaining one. Alan is a mess, and him going to meet Berta just goes to show how lonely he is. She, however, betrayed his trust and almost got him killed. Billy also betrayed Walden by sleeping with his ex-wife. That's a violation Guy Code 101... and 102... and 103...
As usual, Jake was impeccable with his comedic timing. So was Berta. We also got to see Bridget. There were some funny moments in tonight's installment, but nothing really left me laughing or excited like in the old days. What did everyone else think?