Two and a Half Men Review: The Working Class and Aristocrat

TV Fanatic Staff at .
This week's Two and a Half Men episode was a pretty good one. I mean, who doesn't love a little bit of cat fighting, especially when two of our beloved female characters are at each other's throats?!?
We were treated to a tad bit of class warfare on "Sips, Sonnets and Sodomy," with Zoey in the right corner representing the 1%, and Lyndsey in the left corner sporting the colors of the working class. What really worked for me was seeing Zoey getting her hands dirty and being a little bitchy, a far cry from her normal prim and proper character.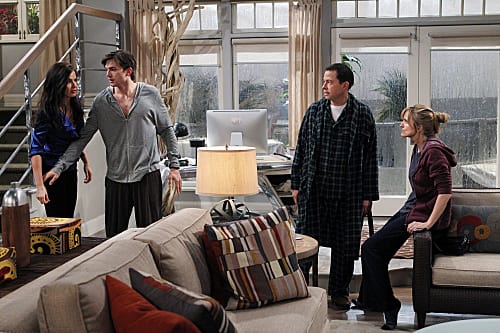 In life, everything is a competition, and "Sips, Sonnets & Sodomy" proved that no one is above rivalry. The most hysterical part of the episode was the moaning match between both parties; they both tried to outdo each other, and it was pretty funny to watch.
I called it last week, and Zoey totally backed me up here, referring to Nigel, her ex-husband, as "a total douche bag." At the end of the half hour, both Zoey and Lyndsey bonded over wine, their kids and the men on their lives. Zoey even asked her ex-enemy for advice on how to lock Walden down.
Another piece of comedic gem? Watching Alan and Walden trying to come up with mail-related sexual innuendos.
Side notes:
Alan has some serious mommy issues.
I would have loved to see this throw down between Chelsea and Lyndsey.
Does anyone read Chuck Lorre's vanity cards? Those things are pretty hilarious.
Please head over to our Two and a Half Men quotes page for some of the best insults traded between Zoey and Lyndsey - and sound off in the comments what you thought of the episode.