30 Rock treated us to a double feature of laughs with The Office taking the night off this week, and while both episodes had success in the joke department, one excelled because of its inherently funny stories.
"Kidnapped by Danger," the second half-hour of the night, gave us the making of Avery Jessup's TV movie, Liz as The Blocker, and Jenna and Tracy attempting to maneuver around Weird Al's evil brilliance... all of which allowed the laughs to flow freely.
The table read for the movie itself was worth the entire storyline. The introduction of William Baldwin - playing an actor that was playing Jack Donaghy, who is played by his brother Alec Baldwin - was brilliant. Said actor doing an exaggerated version of Jack made it even better.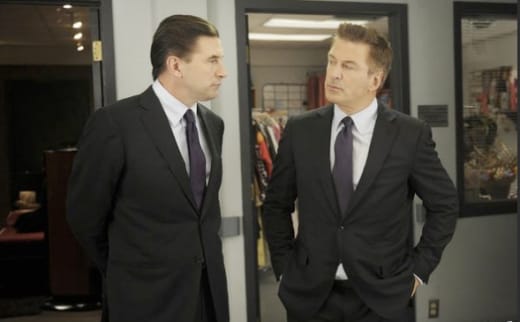 Liz's script was hilarious, Cynthia Nixon's portrayal of Nancy Donovan was just as overacted as Julianne Moore's, and when Liz admitted that she thought all people from Boston sounded like that, I almost lost it.
The movie, and the appearance of Jack's double, was a great way to handle the situation between Jack and Avery's mom. It was nice to see her get over Jack through fake Jack, but Liz's turn as The Blocker was a much funnier way to keep them apart.
Then there was Tracy, Jenna, and their feud with Weird Al. I really enjoyed the idea, and I loved watching them attempt to write a song the man couldn't make fun of. As Tracy so ridiculously proved, though, Al can take any words you write and make them sound stupid. That is, except for the ridiculous song they put together for Jimmy Fallon.
"Kidnapped by Danger" also gave us the verb: to normal Al, the choice between Mitt Rom-mummy and Mitt Zombie for Halloween next year, Jack's catch phrase; "off the charts, Kimosabe," Jack staring through the fake window pane and a nice jab at Lorne Michaels just before the credits.
"Grandmentor," on the other hand, gave us Jack whining about Avery not being the focus of America anymore, Jenna attempting to get the role of Avery and Liz being a mentor to the insufferable Hazel.
The half-hour still had its moments, though: The people from standards cursing up a storm, Liz fist pumping when she won't be able to go to the gym, the reveal that Matt Lauer's band's name is Rhythm and News and the fact that an erectile dysfunction commercial is the funniest part of TGS.
It just didn't match the quality of this week's second installment. But what did you all think? Which 30 Rock episode made you laugh more? Would you want to see more of William Baldwin doing Jack Donaghy? And will they ever get Avery back?
Scroll through some of our favorite lines of the night below, and then hit up our 30 Rock quotes section for all the best jokes of the series. Be sure to sound off in the comments to let us know what you liked most about tonight's episodes of 30 Rock. 
Liz: I thought you said a man should never wear pastel unless he's a black guy on Easter? | permalink
Hazel: What's your problem?
Kenneth: Oh my well, my parents were technically brothers... | permalink
Liz: Do not write another sketch with Krang from Teenage Mutant Ninja Turtles. No one knows who Krang is. It would be a waste of time to talk about Krang on television. | permalink
Diana: It's crass Jack, like personalized wedding vows or standing up in a pool. | permalink
Liz: Your insistence that the Jack character have an awesome catch phrase...
Jack: An idea that's off the charts, Kimosabe. | permalink
Dan Forcella is a TV Fanatic Staff Writer. Follow him on Twitter.