It sure is rewarding as a TV viewer when someone you're invested in shows growth. | permalink
In an extremely meta moment, Tracy uttered those words about Liz on the St. Patrick's Day special he was hosting with Jenna. Yes, Liz Lemon did depict growth in 30 Rock's "St. Patrick's Day," but as I've noted before, that's not a necessity for a comedy.
There are those sitcom that need to fuse the funny with character development in order to be successful - take Parks and Recreation or Modern Family, for example - but 30 Rock is so out there and obviously after as many jokes as it can muster that the addition of growth seems unnecessary.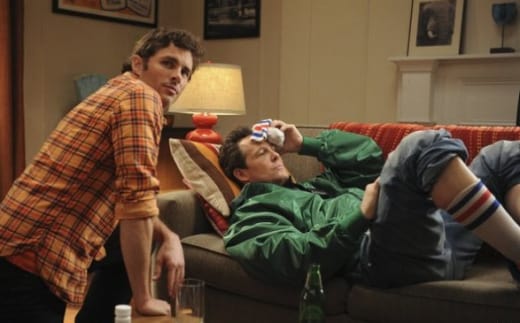 That's not to say that it wasn't welcome here, especially if it meant the return of Dennis Duffy! There is plenty of Dean Winters to go around, as those All State commercials never stop, but he's never better than his pop-ins at 30 Rock. To wit:
Dennis: You know there's some things I miss about being with you... like having somewhere to hook my Sega up to. | permalink
Between that Sega bit and his new business to transfer customers' old DVDs to laser disc, I'm not sure Dennis could have been any more hilarious. His new life with Meghan also helped Liz grow and realize she was ready to express herself to Criss.  
That will hopefully lead to more James Marsden, who has been great in this role. His performance has much more subtlety than we may be used to on 30 Rock, so it is a nice change of pace. The simple way he squirted that mustard onto the hot dog bun and said "here's your bun" even made me chuckle.
Jack: Unfortunately, unless Harry's Law really took off this week and no one told me, you two are the biggest stars at the network. | permalink
This was a fact that has never been lost on Tracy or Jenna, but here the two of them went head-to-head after Hazel mistakenly let them hear a promo announcing Jenna's name before Tracy's.
As always, this combination was great together. Tracy and Jenna praying to the ghost of Michael Jackson and the great Kibala monster, respectively, was good enough all on its own. Their opposite reactions to a leprechaun two years ago, and Tracy filling in for Andy Rooney, only added to the hilarity.
Frank: None of the writers can go out on St. Patrick's Day because we all have faces people naturally want to punch. | permalink
We were also treated to a wonderful game of Colonizers of Malar between Jack and the writers, in which the former wrestled with his life and his abilities to succeed.
I'm not sure which was funnier, Jack using his business skills to rule at the world domination board game, or how upset he got when he realized that it was all based on the luck of a rolled die. Neither was as hilarious as the simple utterance of "and the orcs rape everybody," though.
Head over to our 30 Rock Quotes section to relive all the laughs from "St. Patrick's Day." Then hit up the comments to let us know what you liked or didn't like in the episode.
Dan Forcella is a TV Fanatic Staff Writer. Follow him on Twitter.