The American Idol judges decided against saving Erika Van Pelt last week, a decision she said left her feeling shafted. Unless the judges use their save, another contestant will be leaving us tonight.
But first we'll have our usual commentary by the voice of reason, Jimmy Iovine, as well as performances from Nicki Minaj and Idol Season 10 winner Scotty McCreery. That is, if we can ever get through the advertisements for Ford, the upcoming Aerosmith Global Warming tour, and watching the Top 9 flip out over tiny pantries, closets bigger than my house, and bidets in the Idol mansion.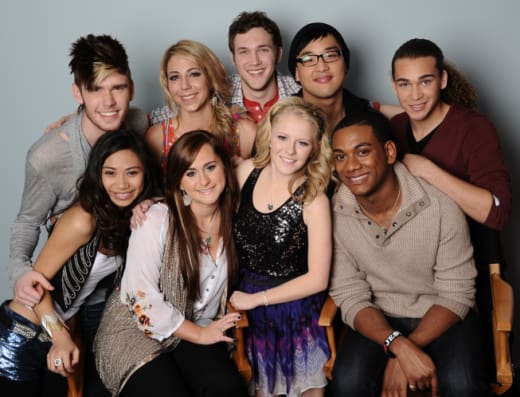 Elise Testone, Phillip Phillips, and Hollie Cavanagh take the stage first. Jimmy says Elise did herself a lot of good last night and totally agrees with me that Elise being older than the other female contestants is working in her favor. She's got the charisma and ability to command an audience that some of the other girls don't have. Jimmy thinks Phillip is on his way to being a "big, big star" and that Hollie is too technical and lacks experience, emotion, and soul. I think Jimmy is the smartest man I've heard speak on this show in two years.
One of my predictions from last night has come true. Hollie is in the bottom three. The lack of connection has definitely hurt her. Phillip is safe and so is Elise. Neither of which is shocking after their respective throwing down of the gauntlets yesterday.
Nicki Minaj almost had a Janet Jackson-esque wardrobe malfunction with all the jumping around she did during her performance of "Starships." J.Lo's body language after Nicki Minaj's performance says that La Diva Latina wasn't amused. She especially wasn't amused when Nicki asked to guest judge and insinuated that J.Lo would need to scoot over. Or maybe she's just feeling superior about her ability to keep her goods under wraps against all odds in ways that other female performers can't seem to figure out.
Colton Dixon, Joshua Ledet, and Heejun Han are up next. Jimmy says that Colton was good, but not good enough last night. He deducted points from Colton's performance because Colton lost control of his emotions in a way unbecoming of someone who hasn't yet "made it." According to Jimmy, Joshua only performed about 85% of his song because his loss of emotions affected his voice. Jimmy things Heejun's the weakest link in the competition. I don't think Colton losing control of his emotions hurt him too terribly last night, but I know that performance wasn't his best. Joshua seemed all in his own head, and maybe that was because he allowed his emotions to overtake him. Maybe that's what felt disconnected to me about his performance last night. Heejun, well, yeah. My hopes aren't high that he's sticking around much longer.
Colton's safe. Joshua's safe. Heejun's in the bottom three. So far I'm two for two.
Scotty McCreery performs his new single "Watertower Town" with the accompaniment of a full band. He seems really comfortable and I'm happy for him. I even kind of like the song. country music is about telling a story and this song definitely does that. Jimmy comes out to congratulate Scotty on his platinum album and remind us all that Idol is definitely capable of producing stars. Good job, Scotty!
Skylar Laine, DeAndre Brackensick, and Jessica Sanchez are the last trio of the night. Jimmy says there's always something about Skylar that makes him want to vote for her but that in order to stay, she's going to have to pick a song with more...song. Jimmy is kind of apathetic about DeAndre and says that he needs more experience. He also says that the falsetto is "polarizing"--people will either love it or hate it and he's afraid they just won't get it. Jimmy feels like Jessica's a seasoned performer at the age of 16 and has more presence than people twice her age. I'm inclined to agree with Jimmy about Skylar and DeAndre, but not so much about Jessica. I know, I know, y'all think I'm too hard on the girl. But there's something about her that is very hit-and-miss with me. Overconfidence? Too much pageantry? I'm not sure.
Jessica's safe. DeAndre is...safe. Skylar's in the bottom three. And I'm completely shocked. But she's the first to be sent back to safety so my jaws are sufficiently unclenched.
Hollie's headed back to the couches. Heejun will be singing for the save tonight, futilely is my guess. If the judges didn't save Erika last week, they won't use the save on Heejun.
He repeats his song from last night, "A Song For You," and when he's done Steven says "You knew this was coming." We're saying goodbye to Heejun Han. This week the judges were more than right to save the save. It was time for Heejun's journey to end.
Next week is 80's week, so I'm expecting great things from Elise since she's the only remaining contestant who was even alive in that decade.
What did you think about the results from this week's show? Were you shocked to see Skylar in the bottom three?
Miranda Wicker is a Staff Writer for TV Fanatic. Follow her on Twitter.