Last night, the Top 11 American Idol finalists performed songs from the years they were born. Tonight, one of them will go home and we'll find out who'll be going on tour this summer. Maybe.
I'm speculating that producers won't cut anyone this week because of Jermaine Jones' elimination. Let's see if I'm right...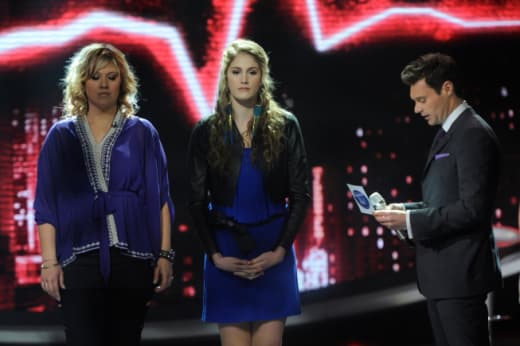 Ryan calls Phillip Phillips, Skylar Laine, Elise Testone, and Joshua Ledet to the center of the stage first. Jimmy said he's rooting for Phillip, Skylar's safe but her song choice wasn't great, Elise killed it and captivated him, and this week was Joshua's week. I think he's bitter that Skylar didn't take his advice about the song and people have kind of overhyped Joshua just a smidge, but other than that, Jimmy's spot-on in his analysis of the performances.
Joshua, Phillip, and Skylar are headed on tour. Elise is in the bottom three. It really hurt her to go third last night because she gave a fantastic performance.
Demi Lovato performed "Give Your Heart A Break" and I really hope Shannon, Jessica, and Hollie, as three of the youngest females in the competition, were taking notes. If they're going to survive, they've got to separate themselves from Celine and Mariah and Whitney and develop their own identities. Kind of like Skylar's done already and like Elise and Erika are trying more successfully to do. Figure out who you are and make yourself a performer and not just a singer. (For what it's worth, Jessica did try to perform last night, but she picked a song that made her sound 40 instead of 15.)
DeAndre Brackensick, Colton Dixon, Shannon Magrane, and Jessica Sanchez learn their fates next. After catching some heat from the judges for DeAndre's song, Jimmy explains that each contestant comes in with three songs to try and if none of those are outstanding, Jimmy and the guest mentor suggest other songs. DeAndre didn't do well on any of his first three songs and selected "Endless Love" at Jimmy and Will.I.Am's suggestion.
DeAndre, Jimmy thought, did better in the practice than on the stage. Jimmy also agreed with Steven regarding Colton's song choice. Shannon, he said, pushed too hard and showed her weaknesses. He supported Jessica's choice to do an up-tempo song and said she lost her rhythm when she lost her breath. I'm glad we learned how songs are chosen because now it seems a little less like a jerk move for the mentors to throw out song suggestions. Jimmy and Steven were completely wrong about Colton. Even if there were better songs from 1991 he could've chosen, he did a great job with that song. Shannon's definitely in trouble tonight and Jessica? I think she probably learned a thing or two from that performance.
Colton, Jessica, and DeAndre are safe. Shannon's headed to the bottom three with Elise. Can't say I'm surprised at all by Shannon. DeAndre surprises me just a little though. Somehow the guy just keeps getting votes.
Daughtry is the second musical guest of the night and I immediately notice two things. Colton could totally play in this league. In a more acoustic-rock league, so could Phillip. Chris Daughtry is a performer. In terms of the guys in this competition who have the potential to sell records and concert tickets to more than just their grandmothers, Colton and Phillip have it. DeAndre, Heejun, and yes, even Josh Ledet, do not. The other thing I notice is that Daughtry's mic stand is set freakishly high.
Erika Van Pelt, HeeJun Han, and Hollie Cavanagh are the final three contestants to face Ryan's flashcards. Jimmy "gave Hollie straight A's" last night and said Heejun needs to find some tempo before people get bored. He really had nothing to say about Erika's performance except that she oversang and spent the rest of the time arguing on video with Randy. Despite the crazy, off-topic commentary, Jimmy, once again, is absolutely correct. Heejun's novelty is his comedy, not his singing. He needs to do something to wow the audience or they're going to stop voting. Erika is better than she was last night, but last night certainly didn't do her any favors. And Hollie, she's a voice to be reckoned with.
Hollie and Heejun are safe and headed on tour. Erika's in the bottom three with Shannon and Elise.
Two out of three ain't bad, y'all. And I was right about Erika and Shannon. Elise is sent back to safety which means either Shannon or Erika are headed home tonight. Maybe. I'm still waiting for some sort of surprise and there's also the judges' save to consider.
Erika's safe and headed on tour. Shannon, however, will be singing for her life in hopes that the judges will use their save. I'm about 97% certain they won't based on the first note of the song. When she hit the bridge, I was even more convinced because, just like last night, she pushed too hard. Mariah Carey she's not, y'all.
The judges decide not to use their save. Goodbye to you, Shannon. Judging by the way Heejun was crying, it's safe to say she'll be missed.
Were you right about your predictions for the bottom performers? Did America get it right by sending Shannon home? Do you think the judges should've used their save?
Miranda Wicker is a Staff Writer for TV Fanatic. Follow her on Twitter.