I'm really not sure what I thought of "Learning Curve." It wasn't an especially deep episode, there weren't a lot of interactions between the wives and even the stories were a little thin. It was probably one of my least favorite hours of Army Wives in years.
The gang had a lunch in Pamela's honor, at least, because real friends wouldn't forget about someone the week after she left. That was a sweet touch. It also highlighted how distant the group had become in such a short time with the loss of Pamela and the introduction of Jackie. Roxy lost her best friend to another state and Claudia Joy felt as though she lost her best friend to Jackie.
Would Denise really be as oblivious to the machinations of Jackie as she appeared to be? While I understand it must be nice to have an old friend back in her life, she and Claudia have been through so much these past years that their ability to see through each other's walls should be instantaneous. They both lost children and grieved together.
Nothing that Denise went through with Jackie could possibly put their friendship on equal ground. Claudia Joy never asked from her friends for help when grieving or when dealing with diabetes, but she was there for them all. Now they should support Claudia Joy without her needing to ask.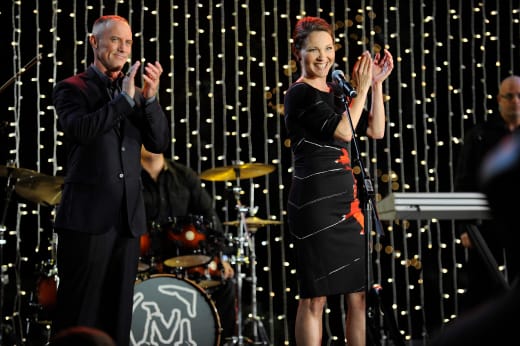 Jackie's character will surely be better fleshed out as time goes on, but for now she appears to be nothing but a very well trained social climber. Yet I'm conflicted. She held the concert and made a lot of money for the troops by catering only to top brass, but her husband told Michael it was important to him that they start a new policy immediately that allowed soldiers to leave early on Friday's to spend more time with their families. Perhaps their philosophies just aren't well aligned.
The All My Children reunion with Susan Lucci and Kim Delaney went very well. Taken out of the soap opera, Lucci's acting skills were far more impressive than the excess of Erica Kane. She had the dirt on Jackie and with her husband, Bryce, they laid out how important it will be for the Holden's to come up with a strategy to earn Michael his third star and win the role of Corp Commander instead of Kevin Clark.
Things are about to get a lot more interesting at Fort Marshall.
Elsewhere, Trevor dropped a barbeque bombshell on Roxy. While she pulled it off, she also gave everyone food poisoning. But what could have been a complete disaster gave them both a chance to hold their heads up in the face of calamity and Trevor earned respect from his men and Roxy earned it from their wives.
Finally, Roland continued to cross paths with youth center manager, Charlie. She doesn't take no for an answer and by the time the show ended, as overworked as he felt, Roland had promised to hold a teen counseling session once a week for 30 minutes. Will Roland be able to keep his sessions to that schedule? Highly doubtful. When he goes in, he goes all in. Once he sees the good he does find the time to help those kids even more.
While we didn't lose Fort Marshall, the dynamic of our wives (and Roland) has most definitely changed. I really hope Michael gets the third star and remains Corps Commander. I want Denise to realize Claudia Joy is hurting. I want Roxy to find a new friend and I look forward to seeing how Roland keeps all the pieces of his life together. What about you?
Carissa Pavlica is the managing editor and a staff writer and critic for TV Fanatic. She's a member of the Critic's Choice Association, enjoys mentoring writers, conversing with cats, and passionately discussing the nuances of television and film with anyone who will listen. Follow her on Twitter and email her here at TV Fanatic.