Fort Marshall didn't close, but that didn't stop everything from changing on Army Wives. With the new season, the drama has really been intensified and "True Colors" was no exception.
I'm having the hardest time deciding whether to believe Jackie Clarke is as big of a bitch as Audrey has made her out to be. When Claudia Joy confronted her and Jackie said she didn't think Michael was even interested in the third star, it was difficult to believe her. Didn't they all sit together and talk about whether or not the Holdens would prefer the home the Clarkes were living in? If he was only temporarily hanging around, why would Michael even consider moving?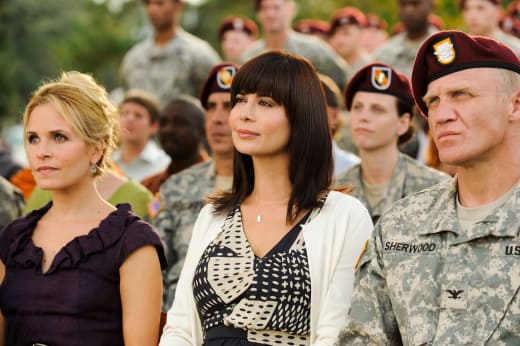 Even if I didn't want to believe Jackie was Claudia Joy's nemesis, the evidence didn't add up. The look on Jackie's face gave her secret away, so Claudia Joy does have fuel to add to the fire should she so desire. But does she want to stoop to Jackie's level? Denise's unwillingness to see anything but starbursts and sunshine when Jackie was around didn't help matters, nor did Frank telling her that Jackie had to be her new best friend. So, true friendship is determined only by rank in the Army? That can't be right, or Roxy would have never been a part of the show.
Speaking of Roxy, after being humiliated by Denise telling her she needed to start dressing like an officer's wife, she took it to heart and really made some great changes. She doesn't look like a teenager any longer. Even Trevor was wowed by her new sophisticated appearance. Along with the dress came a feeling of self confidence that allowed her to walk into her first FRG meeting and take complete control. (Check out some of her great lines in the Army Wives quotes section.)
The heat was also on Joan as the influx of soldiers' families from Fort Hope overextended their resources. Joan made an attempt at a town hall meeting, but it was a disaster and Roland and Charlie devised a plan wherein Charlie could give Joan some advice. It didn't work out as expected, but since Joan was able to initiate the conversation on her own, she was more willing to listen. I think she and Charlie might be friends after all of that.
One thing I found strange was their big idea was to create a family-oriented question and answer website after the woman who attended the town hall meeting said she couldn't even navigate the web. Maybe the site was so poorly constructed they couldn't find anything.
Joan and Roxy made the most of their new circumstances. Denise and Claudia Joy are at each other's throats over Jackie Clarke. My guess is Michael will get his third star and remain corps commander, while Kevin Clark runs Fort Marshall. Unless this is a season-long arc and the Holdens are leaving at the end of the season. I sure hope not, as I'm a huge fan of Kim Delaney and Brian McNamara. Army Wives wouldn't be the same without them.
Carissa Pavlica is the managing editor and a staff writer and critic for TV Fanatic. She's a member of the Critic's Choice Association, enjoys mentoring writers, conversing with cats, and passionately discussing the nuances of television and film with anyone who will listen. Follow her on Twitter and email her here at TV Fanatic.