"Women with Guns" showed us something I never thought I'd see on Blue Bloods. Danny Reagan blushing. 
The seasoned detective could work Vice and never bat an eye but the thought of his father having a fling with an attractive reporter made Danny avert his eyes in embarrassment. Who would have guessed that?
Frank's friends with benefits relationship with Melanie was sweet. I loved how he called Garrett the moment he saw her at the boring fundraiser to call off the plan for his emergency exit. Suddenly his night had gotten a lot more interesting, only it wasn't in the way he had hoped.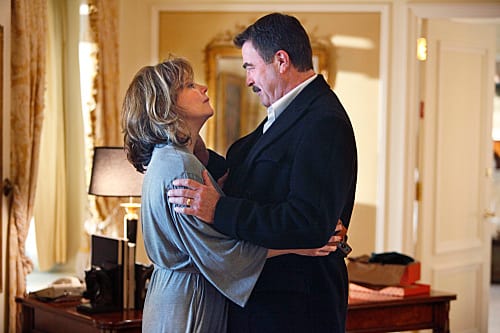 The moment I saw Tom Wopat as the producer I knew he was behind the attack and that the crazy internet guy was simply a red herring. Paying some guy to throw acid at his boss' face was certainly a cowardly way to deal with getting fired. Melanie proved to be quite the scrapper as she told Craig she wasn't firing him because of his age. She was firing him because he was arrogant and sloppy. Heck, he couldn't even get his retaliation right.
I could see why Frank was attracted to Melanie. She was smart, gutsy, independent, and their no strings relationship made things easy. His family and his job take up a good portion of his life but sometimes you need a little fun.
I loved the gift Frank gave Melanie before she left. A French calf skin thigh holster specifically made for her gun. Now that's sexy. Too bad he couldn't help her try it on before she had to leave. Now there was a missed opportunity.
Danny's reaction to learning about his father's love life was hysterical. He could barely look at Frank and I don't know if Erin had more fun joking about her father's love life or making Danny blush.
Jamie's undercover operation heated up as Johnny Tesla's supposed death pulled him back into the Sanfino crime family. Unfortunately for Jamie, everyone seemed to think he was the one who killed Tesla. Jamie was right. The real killer obviously saw him as an easy scapegoat.
I knew Bianca was in trouble the moment Jamie took the bullets from her gun. My guess is that she needed those later on that night and an empty gun may be the reason she disappeared.
Jamie's nervousness as things heated up wasn't a surprise but his reaction to it was. He lamented that he didn't sign up to get people killed. I know that wasn't his goal but he's working undercover to take down a mob family. The fact that a criminal like Johnny Tesla ended up dead shouldn't really be that shocking.
The entire undercover storyline hasn't been one of my favorites but it has offered one highlight. Noble Sanfino's car. Every time I see that Porsche I sigh. 
The Reagan family dinner scene was much too short but the veiled references to Frank's love life were cute. Even funnier that Jamie didn't have a clue what they were talking about. I'd bet Sean and Jack probably caught on faster.
So will Melanie wander back into Frank's life or would you rather he had a more permanent love interest? Are you into Jamie's undercover case more than I am or would you rather see him walking a beat again? Share your thoughts on this week's Blue Bloods.



C. Orlando is a TV Fanatic Staff Writer. Follow her on Twitter.