Californication Review: Raw I'm Gonna Give It To You

Chris O'Hara at .
After a week off, like the episode title promised, Hank and crew brought it "Raw." In the infamous words of the Wu Tang Clan's U-God, it was an episode complete with "no trivia, like cocaine straight from Bolivia."
A least the scenes involving the heart of this series fell into this category, namely Hank, Becca and Karen. Truth abounded this week, from the light-hearted shots about Hank's fame (or apparent lack thereof) to the more intimate and heartfelt confessions of Tyler. He may be a work in progress, but Tyler showed Hank something here, not just through his writing but also in the way he fessed up to his initial motivations for dating Becca.
His line about how she is one of those girls a guy meets when he still has looting left to do was the best of the episode. Hats off to the young man for not making the same mistake so many others in his position do. We'll see how he does, though, when all the fame of having a hit script falls in his lap.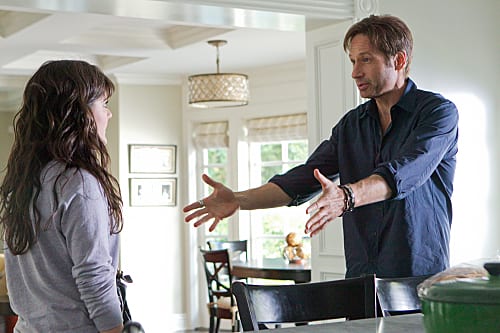 Hank, never one to shy away from some good old pillaging and plundering, continued his attempts to regain the affections of Karen, who was still struggling with Bates' recent relapse. Kudos to Richard, however, for coming clean about his dalliance last week involving Holly. I was glad to see Hank get the credit he deserved for thinking of someone other than himself for once. 
Despite the predictability of Charlie and Lizzie getting walked in on by Marcy and Stu, their Charlie deprecating role play was pretty hilarious. It was pretty clear Lizzie is using Charlie for his money and influence, but it didn't seem to bother him one bit. He seemed happy with the current state of things for the time being.  
Just when you thought Samurai had left us to walk the Earth like Caine, he returned and with him was Eddie Nero, whose voice seemed to have gone from Brad Pitt to Kirk Lazarus. I am always game for one of his sex-infused rants and tonight's installment about becoming Hollywood's first real life action figure was a pretty good indicator of the kind of lunacy we are in store for. 
There was a lot going on this week, but "Raw" was a good midseason transitional episode. One last thought, though: I loved the scenes with Hank and Tyler's moms, and while I know better than to put too much stock in Hank's language, I just thought his use of a rather ugly word to describe them to Karen was uncalled for. He is too creative a wordsmith to go that route. Am I being too sensitive? Or if his word choice was a blemish on what was otherwise a pretty fresh and clean episode?