I've always loved the premise of Fairly Legal. Having a lawyer turn mediator to solve cases before they get to court was original and ripe with potential. 
I also love the cast, especially Sarah Shahi as Kate and Michael Trucco as her almost ex-husband Justin. These two are so charismatic. They have great chemistry and let's face it, they're easy to look at.
But season one of Fairly Legal didn't wow me. As much as I liked the characters the show's stories seemed to lack focus and there were times when Kate's antics made her hard to like. So when I watched the season 2 premiere it was with some trepidation.
Thankfully, "Satisfaction" gave me a lot of what I was looking for. Kate Reed was definitely a little more subdued, heck even her wardrobe was kept to grays and blacks for the first half of the show,  yet she still kept her quirky, fun side.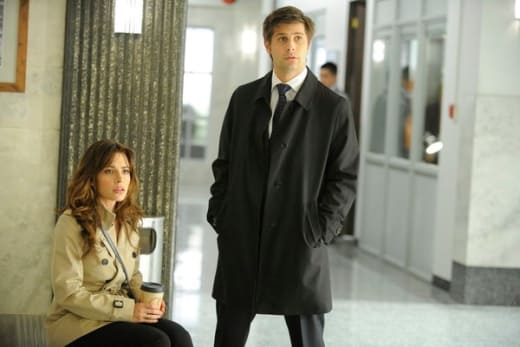 Her sexy tease as she left the bar while she was mourning the end of marriage gave her an edge. It showed she's down but not out.
I was thrilled that they didn't drag out her firing. We all knew Kate would end up back at Reed & Reed. I'm happy we didn't waste a lot of time getting her there.
The new guy, Ben, was fun and his banter with Kate was entertaining. Ben questioned everything about Kate, from her commitment issues to her boat, right down to her coffee consumption. He better be careful. You don't mess with a girl's coffee.
Although I liked Ben I'm not sold on him as a love interest. I've loved the chemistry between Kate and Justin since the beginning of the show. I believe Justin truly loves her but he can't handle her sometimes immature and erratic behavior.
Of course Justin's no saint, as his confession of a one night stand while they were still married could attest. But Kate's mad dash from the room just seemed to highlight that she's unable to stay and fight for what she wants in her personal life when things get too hard. 
In the hospital, Justin asked if he ever really had all of her and even she wondered if she ever went all in with this relationship.
My biggest pet peeve has been Kate's relationship with Lauren. These two have always been contentious but every time Lauren's put out an olive branch Kate has knocked it out of her hand.
I hope this changes this season. With Reed & Reed struggling it would be great to see these two strong, smart women work to together to save it. We'll have to wait and see.
With Justin's campaign for District Attorney getting started, will that lead him and Kate back together or farther apart?  Would you prefer to see these two work on their marriage or is it time for Kate to move on and if so, should she move on with Ben?
I can't say I loved this premiere but it certainly made me optomistic for the rest of the season. I can only hope for full satisfaction in the weeks to come.
C. Orlando is a TV Fanatic Staff Writer. Follow her on Twitter.