Happy Endings Review: Snitches Get Stitches
Leigh Raines at .
Bullying is a very touchy and important topic in society today. It takes a lot of balls and good writing to make related moments humorous, Happy Endings was able to do just that in "You Snooze, You Bruise."
Can you picture Alex as a teeny blonde bully? Those Kerkovich girls have some bossy genes! Then again, it was the smallest girl who bullied me in first grade, so size means nada.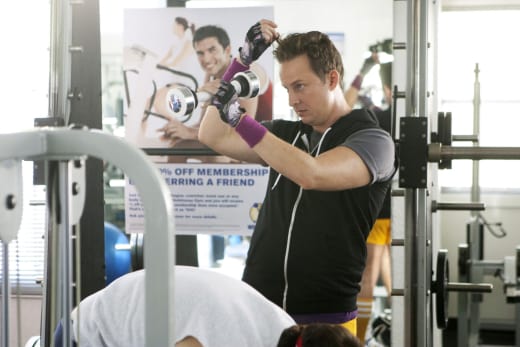 I kind of thought Alex was going to go with Dave to the fight with Corey, but, alas, she wasn't needed. You can only push people so far before they break and it looks like Derek was done being taunted.
How did Max EVER think Corey was hot? I mean, not to be superficial... but just no. He also had the lamest, most playground, immature sense of humor I've ever heard. He actually called Dave "dumb dumb." When's the last time you heard an adult say that? Probably never.
Max and Derek cracked me up in the gym with their faux attempted lazy workout style. I have a feeling we'd be very good friends in real life. Duh, there's a reason I don't sit front row at spin class! I love a good cameo and it was great to see Derek's back. DRAMA!!! Also, Penny's reference to Max's Josh Brolin outfit from The Goonies had me doubled over in laughter.
By the way, how much did the gym incident remind you of the episode of Friends when Ross and Chandler try to quit the gym? Happy Endings knows it is compared to Friends and I think it does a good job embracing it. 
Penny wasn't much of a force in tonight's episode, but she did trigger something we have never seen before: Laid Back Jane. While this was a treat to see, you could tell her relationship with Brad would fall apart if she wasn't the bossy one. Remember last week when Brad said he didn't break up with her because he admired the fact that she knew what she wanted in life? Poor guy can't even dress him without her help.
Laid Back Jane also can't dress herself at all. The "Turkish whore master" pants looked like a giant diaper. I suppose they are useful for napping and "buzzing one out." Is that the new term for "double clicking the mouse"? How did Brad not pick up on that? It doesn't really matter because Brad killed it per usual. "Bitch, it is 5:30" is probably going to become part of my day to day vernacular.
One thing I know is that when you are feeling out of sorts, your sister is usually the only person who can bitchslap you back to reality. It may not be pleasant, but it's just a fact. Alex got really sorority pledgemaster with Jane and I loved it.
What did you guys think? Does every building need a bossy figure to keep things in line? Did you think the slow mo scene with Brad and Jane walking to "It was a Good Day" by Ice Cube was as awesome as I thought? Were you surprised that Dave cried at Jeremy Renner's Oscar speech? (I wasn't) Don't forget to check out the hilarious Happy Endings quotes and hit the comments!
Oh, and one last thing, Bravo is totally the gay history channel.