This week's episode - "Prologue and Aftermath" - took us back to the hometown of Jeannie and opened the door for us to her troubled past.
Jeannie, more than any of the other House of Lies character, has shown a willingness to do whatever it takes to make the deal. This personality trait is why Marty holds her in such high regard. We know Marty was scarred by the loss of his mother, but Jeannie's case has yet to be totally revealed. What we could gather from this week, though, was that her father was both abusive to her and her mom and may have had sexual relations with his daughter, judging by Jeannie's expressions during her late scene with Marco. 
I'm all for delving into the back stories of the Pod, but for the first two such to be so dark and filled with parental issues was a bit of a downer. Something about Jeannie asking Marco if he was proud of her post-coitus was delivered in such a strange manner, something about it did not rest well with me. After learning about Jeannie's abusive father, I was left feeling ashamed inside for laughing at Clyde and Doug for trying to get her mom drunk while they took turns flirting with her.
I don't ever want to feel bad for enjoying a Clyde and Doug scene.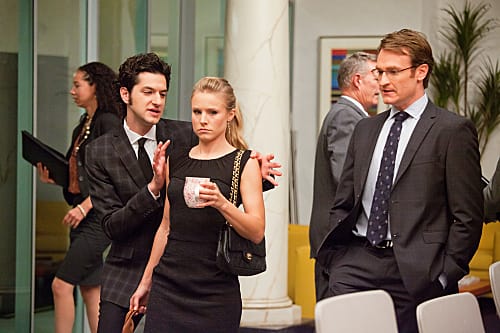 This was the toughest episode yet for me to review. The beginning of the half hour - where Clyde and Doug teased Jeannie about her secret wedding with Officer Dangler - was the brand of comedy I've come to expect from House Of Lies, but the latter scenes were too far removed from the kind of humor we have come to enjoy about this show and which I featured in my best House of Lies quotes of the week. Is it still too young a series to hold such judgements? I found myself torn. 
There was one thing I was certain about, however, and that was my feelings toward Marty sleeping with Monica: it was downright wrong. It's nothing new that the Consultant King is messed up, but to allow himself to be seduced by the woman who is threatening to take away sole custody of his beloved son was a new low point... even for Marty. Even if he is in his "save a ho mode" like Monica said, April deserved better and her reaction was justified. 
The swings from levity to darkness might not rest well with viewers who have tuned in for laughs. I'm not opposed to the show getting serious from time to time, but to heap the story of Jeannie's troubled childhood on top of the still unresolved mother issues of Marty may have been a tad premature.